The pandemic is a threat no more, the solution is nigh: another malaria drug has been repurposed against the COVID-19 plague. After a communist conspiracy of Big Pharma and lying press sabotaged the chloroquine coronavirus cure by the microbiology institute director Didier Raoult (Marseille, France) and the village doctor Vovka Zelenko (New York, USA), the new malaria drug to save us all is the Nobel-Prize awarded artemisinin. While clinical trials now start in the COVID-19-ravaged south of US, the coronavirus-destroying artemisia extract is there for you to buy, straight from a German Max Planck Society spin-off, and you need no prescription. This good news we learned from a press conference in Berlin based on an unpublished cell culture study.
The German professor who discovered the solution to the coronavirus pandemic is Peter Seeberger, chemistry professor at the Freie Universität (FU) Berlin and director of the Max Planck Institute of Colloids and Interfaces in Potsdam, Germany. The ArtemiLife products are sold by Seeberger's start-up ArtemiFlow, his associate there is his own American postdoc and now soon University of Connecticut assistant professor, Kerry Gilmore. The Max Planck Society (MPG) is investor and shares the ArtemiFlow profits.
The Artemisia annua infusion is available at $40 for a box of 30 teabags or as Artemisia annua-flavoured coffee ($50 for a box of 30 pads).
"Taking on malaria, cancer and other diseases"
Artemisinin is won from various Artemisia plants, primarily Artemisia annua (also known as mugwort). It is being used widely in the Traditional Chinese Medicine (which might explain the Nobel Prize), but also, with more medical evidence for efficiency, as de-worming agent (hence the plant name "wormwood"), and against malaria. Not everyone thinks artemisinin is a good malaria drug though. The plasmodium parasite proved to evolve a resistance very fast, while the natural substance is certainly not free from side effects:
"WHO for decades hesitated in considering this traditional medicine approach. Only at the end of the nineties, when chloroquine's resistance became overwhelming did first clinical trials take place. But artemisinin was not water soluble, hardly bioavailable, metabolized very rapidly and gave premature signs of resistance. WHO then prescribed in 1998 extremely high doses up to 1 200 mg of artemisinine for a person of 60 kg on the first day of treatment (WHO/MAL/98.1086) , at the verge of severe neurotoxicty and hepatoxicity."
Professor Seeberger invented an award-winning method to extract artemisinin from the plant leftovers which he wanted to upscale industrially, for the purpose of "Taking on malaria, cancer and other diseases", as his ArtemiFlow boasts. Hence, in January 2013, Seeberger and the Max Planck Society founded the company ArtemiFlow, with the idea to treat malaria worldwide. The CEO back then was science journalist Dirk Pohlmann, who in 2008 made a TV documentary about Seeberger's artemisia research, titled "The Sugar Code: Secret Weapon against Cancer and Malaria?". In February 2017, Pohlmann stepped down as CEO, Seeberger became officially the boss of ArtemiFlow.
ArtemiLife is a kind of US subsidiary of the German ArtemiFlow. Its CEO is Adam Maust, appointed in January 2019. Gilmore is the only Board member listed. The MPG Head of Communications explained to me:
"MPG has signed a license agreement with ArtemiFlow through its 100% technology transfer subsidiary Max Planck Innovation and is participating in the proceeds. We have no stake in ArtemiLife."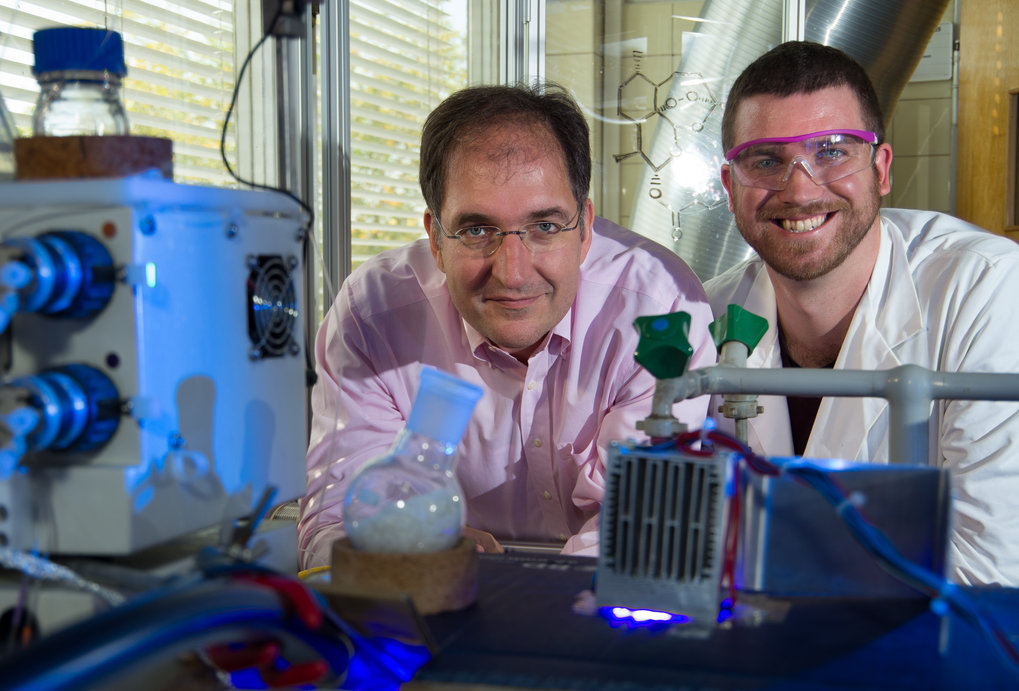 In 2014, Seeberger said:
"We are currently negotiating with several interested parties from developing countries to produce an industrial plant with a capacity of up to 20 tons. Our goal is to lower the prices of malaria medications, no matter if we get funding from any outside entity or not."
In 2018, Professor Seeberger announced:
"Our breakthrough in production creates the opportunity to save millions of lives."
Seeberger's ArtemiFlow also announced to seek partnership with the Bill & Melinda Gates Foundation to distribute their malaria medicine. Again, since the company was founded, the former CEO Pohlmann kept trying in vain to secure this collaboration. But a new newspaper report quotes Seeberger that there was "little interest".
The German newspaper SZ brought so far the only critical article about Seeberger's COVID-19 cure. These ill-informed journalists are unimpressed by the cell culture studies, but sure seem impressed by Seeberger's gigantic conflict of interest. SZ writes:
"Such a combination of science and private-sector interests makes it difficult to drink tea and wait to see what comes out of the studies. The WHO also rejects Artemisia annua teas against malaria – expressly concerned that a resistance to malaria medication could evolve. Such drugs were what Seeberger himself once wanted to sell with his company. But there was little interest, he says. Could now Covid-19 bring about the turning point for his company?"
Before COVID-19, there was cancer. Professor Seeberger by now apparently forgot that he actually founded ArtemiFlow to treat malaria, maybe because there was "little interest". He now insists on Twitter that the artemisinin company was founded "with focus on cancer".
Indeed, what scientists, doctors and the Big Pharma hide from you, is that cheap and simple Artemisia extract can cure not just malaria, but also cancer. Yes, it can. You need sources and references? Well, here MPG Director Professor Seeberger explained in this research report from 2019 on his Max Planck Institute website:
"Artemisinin is also effective against a variety of cancers. However, since not even the malaria market can be supplied with enough active ingredient, the drug is currently not used for other diseases. Simple, efficient and inexpensive manufacturing methods that can be used to produce a hundred tons of the active ingredient would be one way to save hundreds of thousands of lives each year."
The report then describes how ArtemiFlow was founded as MPG spin-off to mass-produce no less but 100 tonnes artemisinin per year, which would have made cancer and other diseases history. Doctor Seeberger's oncology report concludes:
"Artemisinin derivatives are active against various types of cancer (including breast, prostate, intestine) without side effects. So far, a broader use has been refrained from in order not to further reduce the insufficient stocks of malaria medication. The production quantities can be increased with a scalable synthesis process. To demonstrate its effectiveness against lung cancer, a clinical trial will begin in 2019 at the Markey Cancer Center in Lexington, Kentucky. In fields where tobacco was previously cultivated, plants are now thriving that produce the raw materials for new cancer drugs. Hence, Max Planck was right when he said that recognizing the application must precede it."
Do you need more proof? Of course not. Professor Seeberger apparently did warn people somewhere not to consume the ArtemiTea and ArtemiCafe as therapy against cancer or COVID-19 before the clinical trials are concluded. But in my view, it can't hurt, so here you can buy the products now (currently only available in USA only):
Despite the scientifically proven cancer-healing properties (and now also potential COVID-19 prevention), the ArtemiLife website recommends to drink ArtemiTea or ArtemiCafe twice daily while offering no specific reasons whatsoever to do so. Unless maybe if you are after the declared side effects which include nausea, tremors, dizziness, hearing loss and vomiting.
Interestingly, the composition of ArtemiTea sounds a bit like Traditional Chinese Medicine concoction: mugwort, cinnamon, ginger, liquorice, star anise, cloves. Maybe this is what boosts its tremendous yin-yang effect, on both cancer as well as the coronavirus?
Sometimes, Professor Seeberger even forgets that he owns ArtemiFlow and its branch ArtemiLife which he thanks for sharing with him their antiviral extracts:
But now I know you are all eager to know details before panic-buying the ArtemiLife shop empty. On 24 June 2020, a press conference was held on Zoom, and a German-language press release was issued by the FU Berlin (backup here):
---
Mugwort extracts are active against SARS-CoV-2
Cooperation between scientists of the Max Planck Institute, the University of Kentucky and the Free University of Berlin
Chemists at the Max Planck Institute for Colloids and Interfaces in Potsdam, in close cooperation with virologists from the Free University of Berlin, have shown in laboratory studies that aqueous and ethanolic extracts of specially grown mugwort plants ( A. annua ) are effective in combatting the new corona virus, which is the trigger of the COIVID-19 [sic!] pandemic. Human clinical trials begin at the University of Kentucky, USA, to test the effectiveness of teas and coffee containing A. annua and the anti-malarial drug artesunate.
Herbal extracts have been used in Asia, Africa and South America to treat infectious diseases for thousands of years. Extracts from mugwort plants have been used successfully to treat febrile diseases, including malaria. Artemisinin is extracted from this plant and is the basis for the World Health Organization (WHO) recommended combination anti-malaria therapies that are used annually in millions of adults and children with little or no side effects.
The use of A. annua teas as a malaria treatment is being promoted as a natural combination therapy for infections, although the WHO strongly opposes its use in view of concerns about the development of resistance to antimalarials.
The scientists at the participating institutions wanted to find out whether A. annua extracts – pure artemisinin and related derivatives and mixtures thereof – may be effective against the COVID-19 virus. These drugs would be attractive candidates for reuse because they have an excellent safety profile, are readily available, are quickly scalable, and are relatively inexpensive.
"After working with mugwort plants, I was familiar with the plants' interesting activities against many different diseases, including a number of viruses. We therefore believed that it was worthwhile to investigate the activity of this plant against COVID-19, "says Prof. Peter H. Seeberger, who together with Dr. Kerry Gilmore initiated and oversaw the study.
Plant extracts noticeably prevent viral growth
A. annua leaves from a cultured seed line grown in Kentucky, USA, were found to provide the best antiviral activity when extracted with absolute ethanol or distilled water. The addition of either ethanolic or aqueous A. annua extracts before virus addition resulted in a significantly reduced plaque formation. The ethanolic extract of A. annua and coffee proved to be the most active. However, artemisinin alone shows little antiviral activity. "I was surprised that A. annua extracts worked noticeably better than pure artemisinine derivatives and that the addition of coffee further increased activity," says Klaus Osterrieder, professor of virology at the Free University of Berlin, who carried out all activity tests.
Clinical phase 1/2 studies with teas, coffees and artesunate begin in the United States
To test the activity of mugwort extracts, human clinical trials with teas and coffee containing A. annua leaves begin at the University of Kentucky Academic Medical Center. Artesunate, an artemisinin derivative used to treat malaria, is also used in a phase 1/2 clinical trial. "The University of Kentucky and the UK Markey Cancer Center are pleased to continue our collaboration with ArtemiLife to investigate this Kentucky-grown A. annua as a potential treatment for patients with COVID infections," said Jill Kolesar PharmD, co-director of Drug development program at the Markey Cancer Center and professor at the University of Kentucky College of Pharmacy.
---
The announcement was followed by the usual "about" sections, to make it seem like a joint press release by the Max Planck Society, FU Berlin, University of Kentucky and ArtemiLife. Yet the head of press communications at the MPG told me:
"the announcement published by the Free University of Berlin has never been coordinated with us."
ArtemiLife was presented in the press release as a US company with no connection whatsoever to the German professor Seeberger whose breakthrough results were being promoted and served as basis for a phase 1/2 clinical trial in Kentucky. The SZ article mentioned that, unlike the press release, the manuscript does declare the conflict of interests:
"The study is also piquant because a "conflict of interest" is indicated in small print that Peter Seeberger not only serves as director of the Max Planck Institute, but also as shareholder at Artemi-Life, which "currently sells a range of teas and coffees which can be supplemented with Artemisia annua".
That manuscript is not yet available to the wider audience. Because also in small print, the announcement mentioned that the results are completely unpublished, not even as preprint. It's just a manuscript "submitted for publication".
The head of communications at Max Planck Society told me:
"we do not make any press releases on papers that are not published at least as a preprint. Mr. Seeberger knows that too."
As it looks, there are two lines of scientifically unshakable evidence that artemisinin MUST work against COVID-19. First of all, The President of Madagascar, Andry Rajoelina, already invented a working coronavirus therapy, based on artemisia extracts and successfully sold as a refreshment beverage Covid-Organics. The second line of evidence is obviously the peer reviewed scientific fact that another anti-malaria drug, chloroquine, saved the lives of thousands if not millions of dying COVID-19 patients in Marseille, France, as evidenced by the research studies of Professor Didier Raoult (read here and here). Now, Professor Seeberger from Berlin will save us all with artemisinin. My advice: Please buy his ArtemiLife teas, for you, your family and your pets.
The University of Kentucky issued their own press release on the same day June 24th (backup here), be aware that "UK" stands for University of Kentucky in that corner of the world:
---
UK launching human trials for COVID-19 treatment
LEXINGTON, Ky. (WKYT) – A new study for a COVID-19 treatment is underway at the University of Kentucky.
The program uses a plant extract grown in Kentucky and it is now heading into human trials.
"I think one of the attractive features here, is that you have a drug that's already used in many people against malaria and it's safe and secondly it can be produced in very large quantities, possibly in many countries locally," said Dr. Peter Seeberger, Max Planck Institute.
If human trials are successful, then it could mean that scientists have discovered a treatment for COVID-19 that can tick a number of boxes, is widely available, relatively inexpensive and effective.
"What we can establish here, is that there is antiviral activity and we have things that we know are safe to use in people and that's why we're now able to go and perform these human clinical trials," said Dr. Kerry Gilmore, Max Planck Institute.
"What it wants you to see with the dots and triangles is that you have a low number," said Dr. Jill Kolesar, University of Kentucky. "So, for example, if you look at Panel B, the artemisinin and the coffee, you can see on the far right side of that diagram that the virus is almost gone with that concentration."
Human trials will be handled as part of UK's Rapid Assessment Research for COVID-19 treatments, which is already ongoing.
---
Now, the south of the United States is being presently ravaged by the COVID-19 pandemic, Anthony Fauci recently warned the daily cases can reach 100k. Most Americans heavily sick and dying from the infection are Black, because of poverty (which causes high exposure), failed public health and institutional racism in USA. But help is already there: the luckiest among these black patients will catch a spot in the ArtemiLife phase 1 /2 clinical trial in Kentucky.
My personal advice to those unable to get recruited to the Kentucky clinical trial: you can still buy Professor Seeberger's tea and coffee, $50 for a box of 30 capsules is a very low price to save your life. Where others just virtue signal on Twitter, these scientists do something for #BlackLivesMatter. I salute them, and so should you.
But how does the ArtemiTea work on the coronavirus? Below the only bit of data that was leaked from the press conference, and embedded in the Kentucky press release as a tweet. It is a figure presented at the "MPG Press Conference" on 24 June by Klaus Osterrieder, virology professor at FU Berlin and one of the 3 coauthors of the groundbreaking yet unpublished Artemi-Tea COVID-19 study (other authors are Seeberger and Gilmore):
What the scientists did here, was to pour artemisia extracts over a cell culture of a lung cell line. Then, the SARS-CoV-2 virus was added, and look, viral replication was successfully prevented! It turned out, the non-patentable Artemisinin drug itself is not really working against the virus. But what does work like a charm, are the proprietary artemisia extracts, even better so when combined with coffee (as ArtemiCafe). Treated with that, the coronavirus failed to replicate. The war on the pandemic was won on that day.
In this interview with DW from 28 May 2020, Seeberger mentioned to have studied artemisia extracts on coronavirus since March and that the results were already available, although not "officially". He explicitly said that he doesn't think the extracts would inhibit the virus replication (as opposed to what was claimed in his later press release). Seeberger instead proposed a very different, an "immunomodulatory" route via reduction of fever and inflammation.
The Max Planck Institute Director was sceptical about Madgascar president's claims and warned in that interview not to make any statements regarding artemisia extracts on COVID-19 without seeing the studies. His own press release less than a month later refers to a manuscript, unpublished and its data unavailable. Seeberger also announced to be ready for animal studies, which results he promised to deliver within a month, which in turn would then serve as basis for future clinical trials.
The press release from 24 June mentioned no animal studies, only in vitro results. Both the responsible virologist Osterrieder and his FU Berlin refused all communication with me. My repeated questions whether Osterrieder might have a financial conflict of interests regarding ArtemiFlow went unanswered. None of mine and my readers' business probably.
If you look closely at the photo from the tweet in the press release, you might recognise the Max Planck Society corporate design, and read the text at the bottom left corner "Max Planck Society Press Conference June 24, 2020". The MPG Head of Communications told me however:
"the MPG corporate slide design is freely available to all of our employees on the intranet. Although we are pleased if the corporate design is used across the MPG, the footer selected here is not correct. It is not a press conference of the Max Planck Society and neither the press conference as such nor the content of the slides have been coordinated with the central communications department of the MPG at any time. I will write to Mr. Seeberger again in this regard."
Previously, on 14 April 2020, this German-language press release appeared on the Max Planck Society website (backup here):
---
Artemisia annua in laboratory tests against the corona virus
Plant extracts are examined in studies on cell cultures for their effectiveness against Sars-CoV-2
Laboratory studies on cells should provide information on whether extracts from mugwort ( Artemisia annua ) or derivatives of artemisinin, which is obtained from the plant, could be suitable as an active ingredient against the novel coronavirus SARS-CoV-2. The research is carried out by a team from the Max Planck Institute for Colloids and Interfaces in Potsdam together with the US company ArtemiLife Inc. and medical researchers in Denmark and Germany.
There are currently no effective treatments for Covid-19. Medications that are commonly used against malaria or Ebola as well as antiviral medicines for use against Covid-19 are therefore being considered. Treatments with herbs used in Traditional Chinese Medicine have been researched as part of the outbreaks of SARS-CoV and MERS-CoV to treat coronavirus infections. Initial studies in China showed that alcoholic mugwort extract (Artemisia annua) was the second strongest herbal medicine used against the 2005 SARS-CoV virus.
"I am delighted that international scientists from the academic and private spheres are working together in the cell studies with Artemisia annua against the coronavirus," said Peter H. Seeberger, director at the Max Planck Institute for Colloid and Interfacial Research in Potsdam.
Covid-19 is caused by Severe Acute Respiratory Syndrome Coronavirus-2 (SARS-CoV-2), a single-stranded (+) ssRNA virus that is contagious to humans. SARS-CoV-2 belongs to the same subgenus as the coronavirus strain that was responsible for the outbreak of SARS in the early 2000s. The SARS-CoV-2 virus is unique among the known beta-corona viruses because it has a polybasic cleavage site, a genetic trait that is known to increase pathogenicity and transmissibility in other viruses.
Artemisia annua extracts show very little toxicity
"Given the similarities between the two viruses, plant extracts and artemisinin derivatives have to be tested against the new corona virus, and our international cooperation makes this possible," continued Seeberger.
The cell studies are being carried out in research facilities in Denmark and Germany with Artemisia annua plant extract and with pure derivatives isolated from the plant, such as Artemisinin. Treatments with an artemisinin derivative and artemisinin-based combination therapies (ACTs) are now standard treatment for malaria worldwide, even in newborns. Extracts from Artemisia annua show only a very low toxicity.
ArtemiLife Inc., a company based in the USA, provides the necessary plant material for the studies. "Over the past few years, we have been studying Artemisia annua, which we have grown in our fields, with agricultural experts in Kentucky," said Adam J. Maust, CEO of ArtemiLife Inc . "We have the privilege of doing these studies with the Max Planck Institute for Colloids and Interface Research. "
---
You will notice this press release also hides Seeberger's financial conflict of interest, namely him being the founder and owner of ArtemiLife and its US franchise ArtemiFlow. Unironically, the ArtemiLife CEO Maust, whom Seeberger and Gilmore employ, pretends to have the "privilege" to collaborate with their Max Planck Institute. The Max Planck Society Head of Communications wrote to me:
"thank you for pointing out that the April 2020 report published by the institute at http://www.mpg.de does not contain any indication of a conflict of interest. We will pass this on to the MPI. You can see that this report was not processed by our editorial office from the breadcrumb (newsroom / scientific research from Max Planck Institutes) and the missing editor acronym below the text."
But who cares. The ACS-published C&EN magazine spoke to Seeberger's postdoc and ArtemiLife founder Gilmore:
"Gilmore directed C&EN to artemisiaannua.org, a website launched in March, for further information. It claims "a powerful body of scientific evidence, built over the last 40 years, has revealed that the components in the leaves of Artemisia annua are highly active against a broad range of human diseases, including viruses, parasites, and cancers."
The site contains no explicit link to ArtemiLife. But it's and ArtemiLife's websites are connected to the same Google Analytics account, and the name of ArtemiLife's CEO, Adam Maust, appeared as an author in the source code for artemisiaannua.org.

And it even works on dogs. Dr Gilmore's and Professor Seeberger's ArtemiPet Immunity Bites will boost your mitt's immune system, as the website promises. But does it also work on cats? Hamsters? Budgies?
The 2015 Nobel prize for Physiology or Medicine went to Tu Youyou for the discovery of the anti-malaria drug artemisinin. The 2020 Nobel Prize will go to Peter Seeberger and Didier Raoult, for saving the world from the SARS-CoV-2 pandemic with anti-malaria drugs artemisinin and chloroquine. It will be yet another Nobel Prize for the Max Planck Society. My congratulations in advance.
Update 6.10.2020
Yesterday Professors Seeberger, Osterrieder and Gilmore published their research as preprint: Gilmore et al In vitro efficacy of Artemisinin-based treatments against SARS-CoV-2 bioRxiv 2020. You might recall the press release about the high antiviral efficacy of aqueous or ethanol plant extracts in vitro, and the clinical trials which started with ArtemiLife teas and coffees? Well, according to the preprint, the effective concentration (EC50) lies in a 3-digit mg/ml range. The prized A. annua + coffee ethanolic extract, promoted in the press release, proved deadly to cells at just 3.5 times of its EC50 concentration. The most potent drug analysed, artesunate, proved also the most cytotoxic.
I am not sure all this is physiologically doable without killing the patient, but neither am I am German professor, like Seeberger and Osterrieder are. I am also not sure an ethics board would approve any animals tests with that efficacy and toxicity data. Maybe this is why the professors concluded:
"Clinical studies are required to further evaluate the utility of these compounds as COVID-19 treatment."
---
If you are interested to support my work, you can leave here a small tip of $5. Or several of small tips, just increase the amount as you like (2x=€10; 5x=€25). The money might be used to buy as much ArtemiTea as possible to support Professor Seeberger's fight to save the lives of millions.