Schneider Shorts of 29 October 2021 – fluvoxamine officially a COVID-19 game-changer, lab leak still just a conspiracy theory, Retraction Watchdogs catch a cheating student, papermill customers get sanctioned, and lawsuits everywhere: Sabatini sues Whitehead, Macchiarini trial begins in Sweden, Athira Pharma separates from cheating CEO while facing investor lawsuits, and Raoult finally facing criminal charges (theoretically).
---
Table of Discontent
Science Elites
COVID-19
Small-time Crooks
---
Science Elites
Macchiarini trial begins
A court hearing in the Swedish district Solna took place on 28 October 2021 which opened the criminal trial against the trachea transplant surgeon Paolo Macchiarini for aggravated assault. This was announced in Swedish media.
A very slow start though. At the first hearing, the state prosecutor had to be replaced, and a new one will be appointed, eventually. Läkartidningen reports:
"There is no set timetable for the trial yet. According to Solna District Court, the preliminary plan is for the main hearing to be held at the beginning of May next year, but it may possibly start earlier.

At present, the main hearing is expected to last for about 13 days.

Jim Westerberg, Chief Prosecutor at the Special Prosecutor's Office, attended yesterday's meeting as a representative of the prosecution. He states that Chief Prosecutor Mikael Björk, who led the resumed preliminary investigation in the Macchiarini case, will not pursue the case in court, something Dagens Medicin was the first to report on.

– That's right. He is the manager of one of the places where the development center is located and there is no room for a manager to sit and prepare and be in court for so many days. Then others may be so-called session prosecutors, says Jim Westerberg to Läkartidningen."
---
Raoult in trouble?
Maybe this time the chloroquine guru Didier Raoult is in real trouble. Maybe, or maybe not, this is France after all. This time Raoult was caught on secretly experimenting on migrants with unapproved therapies for tuberculosis.
Mediapart investigation uncovered the abuse, but the article is paywalled, so here a summary by Liberation:
"The online media had access to"Hospital reports and email exchanges"revealing"That since at least 2017 and until March 2021, the IHU has prescribed, despite the refusals of the National Agency for the Safety of Medicines and Health Products (ANSM), a combination of four drugs, whose effectiveness in the treatment of tuberculosis has never been demonstrated, nor even evaluated, and which could even be toxic ".

As a result of the treatments received, several patients, including a 17-year-old minor, experienced serious medical complications."But the last straw was seeing two patients rush to the emergency room for preventable kidney complications. They are Romanian and will never lodge a complaint. They don't even know they were used for forbidden tests, "continues the witness questioned by Mediapart."
I bet one of those 4 drugs was chloroquine, because Raoult (according to my source) recommends it for everything, including some forms of cancer. Now the authorities seem to mean it, as Le Parisien reports:
"The National Medicines Safety Agency (ANSM) ordered an inspection and notified the Marseille prosecutor's office on the basis of Article 40 of the Code of Criminal Procedure for potentially fraudulent clinical trials carried out within the IHU Méditerranée Infection, headed by microbiologist Didier Raoult. Information confirmed to La Provence by the prosecutor of the Republic of Marseille, Dominique Laurens."
Hahaha, good luck, the Marseille state prosecutor is Raoult's buddy who so far refused to raise any charges against the Maestro or his acolytes like Eric Chabriere who were threatening his critics literally with murder.
Instead, same state prosecutor may have started criminal investigations against Elisabeth Bik and Boris Barbour of PubPeer (plus possibly Alexander Samuel and yours truly).
But then again, French journalists stopped fearing Raoult (I wonder how long these witness reports have been neglected), also because the quack is losing his friends in high places, now even the former Minister of Health Philippe Douste-Blazy, accused by CNRS of "scientific populism", distances himself from Raoult. In April 2020, Douste-Blazy petitioned together with Christian Perronne for doctors in France to obtain the right to prescribe hydroxychloroquine without restrictions. He now calls this "clumsy" and blames Raoult for "communication errors".
There is also a take-down by Christian Lehman, also in Liberation.
Lehman also had a guest post on my site:
---
Sabatini goes to court
The mTORman David Sabatini now sues the Whitehead Institute which sacked him for allegedly trumped up charges of sexual harassment. Also being sued are institute's director Ruth Lehmann (no relation to above), accused of being rude and ungrateful, and the female lab member who accused Sabatini, for being a promiscuous and possessive harlot who herself sexually harassed the genius scientist. The Boston Globe reports:
"Dr. David M. Sabatini says he had a consensual sexual relationship with his accuser, who worked with him at MIT's Whitehead Institute for Biomedical Research, according to the suit filed Wednesday, which refers to Sabatini as "a world-renowned medical and scientific researcher and a tenured professor at MIT with a stellar reputation who conducted groundbreaking research."

After Sabatini ended the affair in 2019 and said "on multiple occasions that he did not want a long-term relationship" with his coworker, she continued to pursue him and eventually "fabricated claims that Dr. Sabatini had sexually harassed her (when in fact the exact opposite was the case)," according to the lawsuit.

The Whitehead Institute conducted a "sham" investigation in which "the attorneys conducting the supposed impartial investigation spent literally hours attempting to elicit unflattering information about Dr. Sabatini while their descriptions of what lab culture was really like were ignored," he alleges.

As a result, Sabatini lost his lab and awards worth hundreds of thousands of dollars, and the damage to his reputation may make it impossible for him to find future funding for his research, according to the filings."
I read the filing by Sabatini's lawyers (you can download it here) and it has little informative value, aside of mentioning "whiskey tasting" parties which are apparently a normal thing in such labs. The lawyers also use the fact that some female mentees of Sabatini's made careers in academia as proof that he can never be a sexual predator. The Boston Globe mentions:
"The investigators' 229-page report did not reach a conclusion about whether Sabatini and his accuser's relationship was consensual and "consisted of rehashing and repeating at enormous length the same small set of complaints about the demanding nature of work at the cutting edge of scientific research in a laboratory singularly devoted to the truth," according to the lawsuit."
I can't wait to see Whitehead Institute's rebuttal, because at some point they will have to address Sabatini's claim of being a science genius " singularly devoted to the truth", with many dozens of papers on PubPeer.
---
Kawas resigns
The biotech entrepreneur Leen Kawas has been let go by Athira Pharma, a company she herself founded with her two PhD advisors at Washington State University. The resignation followed after a suspension announced earlier because Kawas' papers from her PhD period contained falsified data. The company issued a press release:
"The Company and Dr. Kawas agreed it is in Athira's best interest to enter this critical next chapter under new leadership. Dr. Kawas's actions at Washington State University took place many years ago and did not involve ATH-1017, Athira's lead development candidate,"
Uhm, that last bit is actually untrue. ATH-1017 is the physiological precursor of the same drug "dihexa" which Kawas faked her PhD research with.
Meanwhile, the company is under pressure of lawsuits from its own investors, all because of Kawas' fake gels. The press release also informs:
"The Company also announced that its Board of Directors has concluded its independent special committee's investigation of allegations raised regarding doctoral research by Dr. Kawas conducted while a graduate student at Washington State University ("WSU").

The special committee's primary finding was that Dr. Kawas altered images in her 2011 doctoral dissertation and in at least four research papers that she co-authored while a graduate student at WSU, published from 2011 to 2014."
GeekWire quotes from a memo she sent to Athira employees before departing:
"I regret that mistakes I made as a graduate student many years ago caused any distraction to Athira today," said Kawas in the letter obtained by GeekWire. "At the time, I was navigating an unfamiliar environment and did not fully comprehend the significance of my decision to enhance the images I used in my research. I want to make clear that the enhancement to images was not a change to or manipulation of the underlying data."

The phase 2/3 clinical trial with ATH-1017 on 375 Alzheimer's patients continues. In a similar case, another US company running trials with another Alzheimer's drug, namely Cassava Sciences, keeps sending trolls to harass Elisabeth Bik for exposing their executives' bad science, which the company defends.
---
COVID-19
Fluvoxamine wins?
The antidepressant fluvoxamine has been somehow proven to be the miracle COVID-19 game changer in a phase 3 clinical trial, vouchsafed by the authority of The Lancet.
This was the paper:
Gilmar Reis , Eduardo Augusto Dos Santos Moreira-Silva , Daniela Carla Medeiros Silva , Lehana Thabane , Aline Cruz Milagres , Thiago Santiago Ferreira , Castilho Vitor Quirino Dos Santos , Vitoria Helena De Souza Campos , Ana Maria Ribeiro Nogueira , Ana Paula Figueiredo Guimaraes De Almeida , Eduardo Diniz Callegari , Adhemar Dias De Figueiredo Neto , Leonardo Cançado Monteiro Savassi , Maria Izabel Campos Simplicio , Luciene Barra Ribeiro , Rosemary Oliveira , Ofir Harari , Jamie I Forrest , Hinda Ruton , Sheila Sprague , Paula McKay, Alla V Glushchenko, Craig R Rayner, Eric J Lenze, Angela M Reiersen, Gordon H Guyatt, Edward J Mills Effect of early treatment with fluvoxamine on risk of emergency care and hospitalisation among patients with COVID-19: the TOGETHER randomised, platform clinical trial The Lancet Global Health (2021) doi: 10.1016/s2214-109x(21)00448-4
The world is now screaming that fluvoxamine prevents deaths, but the authors admit it is not the case:
"There were 17 deaths in the fluvoxamine group and 25 deaths in the placebo group in the primary intention-to-treat analysis (odds ratio [OR] 0·68, 95% CI: 0·36–1·27). There was one death in the fluvoxamine group and 12 in the placebo group for the per-protocol population (OR 0·09; 95% CI 0·01–0·47)."
Thus, no significant difference in deaths up until adjustment. Also:
"There were no significant differences between fluvoxamine and placebo for viral clearance at day 7 (p=0·090) and hospitalisations due to COVID (p=0·10), all-cause hospitalisations (p=0·09), time to hospitalisation (p=0·11), number of days in hospital (p=0·06), mortality (p=0·24), time to death (p=0·49), number of days on mechanical ventilation (p=0·90), time to recovery (p=0·79) or the PROMIS Global Physical (p=0·55) or Mental Scale (p=0·32; appendix 2 p 8)."
The authors did find a difference somewhere though, once the definition of "hospitalisation" was modified:
"Treatment with fluvoxamine (100 mg twice daily for 10 days) among high-risk outpatients with early diagnosed COVID-19 reduced the need for hospitalisation defined as retention in a COVID-19 emergency setting or transfer to a tertiary hospital."
The TOGETHER trial NCT04727424 was coordinated and sponsored by McMaster University in Canada, plus some charities. The clinical trial took place in Brazil, and also tested ivermectin, metformin and interferon.
It is worth noting that while the trial may have started independently, its results were published with the significant contribution of the psychiatry professors Angela Reiersen and Eric Lenze of the Washington University, who have been advocating for fluvoxamine as the COVID-19 cure since their own studies. Thus, not entirely independent confirmation.
Nobody has a clue how a SSRI antidepressant is supposed to work against a virus infection, but now that we know it prevents COVID-19 deaths and hospitalisations (shut up with your nitpicking!), everyone is busy with making up a mechanism and drawing diagrams.
Wait, the mechanism is of course autophagy, as argued by the psychiatrist and autophagy researcher Theo Rein of the Max Planck Institute for Psychiatry in Munich, Germany, who is concerned his field doesn't get enough COVID-19 grants:
Rein, T. Harnessing autophagy to fight SARS-CoV-2: An update in view of recent drug development efforts. Journal of Cellular Biochemistry (2021) doi: 10.1002/jcb.30166
As News Medical explained:
"Antidepressants are known to exert their beneficial effects by reducing the risk of the often fatal cytokine storm. However, antidepressants induce autophagy as well. Thus, their effect on autophagy might not only be important for treating depression but also to fight SARS-CoV-2."
That is because Prof Rein found out that depression is actually, bet you didn't know that, a disease of autophagy in the brain (Gassen & Rein, Frontiers in Psychiatry 2021), and this in turn explains that antidepressants like fluvoxamine must work because they somehow regulate autophagy, simple as that. Prof Rein also argues that ivermectin and artesunate (an artemisinin derivate) are also promising COVID-19 drugs, because surely they also must act on autophagy somehow.
Maybe Prof Rein tries to help a fellow Max Planck Institute director, Peter Seeberger?
In any case, Lancet is an authority not to be argued with. This journal told us that Sputnik V vaccine is 100% safe and 100% efficient, that all talk about COVID-19 lab origins is a conspiracy theory, and that Macchiarini's trachea transplants saved lives. Because of The Lancet, we all will be taking fluvoxamine now. Even if it doesn't really work against the coronavirus, it will sure lift the mood, so you can die with a smile!
---
Lab Leak Theory
Another investigative scoop by The Intercept. Turns out, Peter Daszak's EcoHealth Alliance was experimenting with the MERS virus at the Wuhan Institute of Virology and made it even more dangerous and infectuous. The research was funded by the NIH. The journalists Sharon Lerner and Maia Hibbett write:
"In September, The Intercept received two grant proposals by EcoHealth Alliance that were submitted to the NIH. One of the proposals, "Understanding the Risk of Bat Coronavirus Emergence," detailed troubling and potentially dangerous research conducted with bat coronaviruses in Wuhan, China. But the first release of the documents, which The Intercept received more than a year after it requested them, did not include the progress report for the grant's fifth and final funding year.

Yesterday, the NIH provided that missing report for the period ending May 2019, which was inexplicably dated August 2021. That summary of the group's work includes a description of an experiment the EcoHealth Alliance conducted involving infectious clones of MERS-CoV, the virus that caused a deadly outbreak of Middle East respiratory syndrome in 2012. MERS has a case-fatality rate as high as 35 percent, much higher than Covid-19's. The scientists swapped out the virus's receptor-binding domain, or RBD, a part of the spike protein that enables it to enter a host's cells, according to the report. "We constructed the full-length infectious clone of MERS-CoV, and replaced the RBD of MERS-CoV with the RBDs of various strains of HKU4-related coronaviruses previously identified in bats from different provinces in southern China," the scientists wrote."
Nope, nothing suspicious there, the information was kept secret exactly because it is so boring and irrelevant to the pandemic out there. After all, Daszak did investigate the COVID-19 origins on behalf of WHO and Chinese Communist Party and found out that a lab leak is highly unlikely and a conspiracy theory.
The Intercept quotes the US geneticist and COVID-19 origins sleuth, Alina Chan:
"In the very same report, they showed data that one of their chimeric SARS-like viruses caused more severe disease in a humanized animal model than the original virus"
The Intercept also quotes the NIH Principal Deputy Director Lawrence Tabak:
"According to Tabak's letter, the NIH has demanded additional information from EcoHealth Alliance. "EcoHealth is being notified that they have five days from today to submit to NIH any and all unpublished data from the experiments and work conducted under this award," he wrote. "Additional compliance efforts continue.""
The NIH director Francis Collins, who resigns by the end of the year and who fought in court to deny the release of EcoHealth Alliance's NIH grants to journalists, now goes around denouncing lab leak as a conspiracy theory, again.
In this regard, a number of scientists has comments on the newly appointed WHO panel to investigate COVID-19 origins after the earlier Daszak-led investigation proved an embarrassment.
Colin D Butler, Alina Chan, Virginie Courtier-Orgogozo, Gilles Demaneuf, Elisa Harris, Jonathan Russell Latham, Milton Leitenberg, Jamie Metzl, Steven Quay, Günter Theißen Roland Wiesendanger Proposed changes to the composition of the SAGO committee (2021) DOI:10.13140/RG.2.2.18805.50405/1
"we welcome the establishment of the new WHO Scientific Advisory Group on Pandemic Origins (SAGO) as a positive step forward. If designed properly, SAGO has the significant potential to make present and future investigations far more transparent, effective, accountable, and legitimate. The full potential of this effort will only be realized, however, if SAGO has the mandate, the access, and, above all, the necessary team to realize its ambitions. For this reason, we are concerned that the proposed list of 26 nominees to SAGO, announced on 13 October, lacks the diversity of skills and the scientific impartiality necessary for its mission […]

"we note that there are far too few nominees with backgrounds in biosafety,biosecurity, or forensics (we counted only two out of 26) […] The group also includes a number of people who are on public record dismissing a possible research-related origin of the current pandemic in often extreme terms and using language indicating a lack of openness to all credible hypotheses. Some nominees also seem to have conflicts of interests which have the potential to sap the credibility of SAGO. […] We therefore call on you to remove three specific nominees…"
namely Marion Koopmans, Kathrin Summermatter and Supaporn Wacharaplusadee.
---
Fake vaccine certificates
In Ukraine, a country with one of the lowest vaccination rates in Europe, you can buy fake COVID-19 vaccination certificates. ABC journalist Julia Drozd reports how simple that is:
"A would-be customer sends their passport details, address and a phone number through the Telegram messenger app, and the next day, a document showing fake proof of vaccination with Pfizer's coronavirus vaccine arrives in the post, according to several people who have bought one of the fake certificates, and who spoke to ABC News on condition of anonymity because the practice is illegal. They said prices for the certificates can vary anywhere from $20 to $200 (USD) with some fetching as much as $380."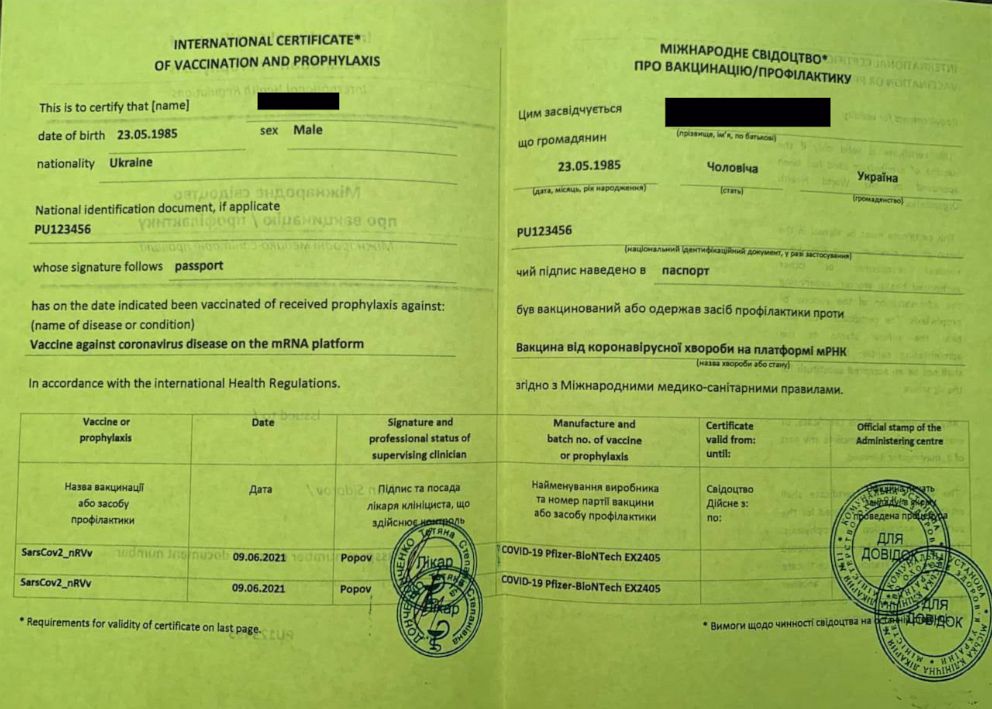 The certificates are for the EMA and WHO approved vaccines, which are offered gratis in Ukraine, Russia's Sputnik V is not offered and not recognised. But the Ukrainian vaccination passport is recognised by the EU, so it is not really helpful antivaxxers, even from abroad, can illegally buy one. Not a forgery, a real official certificate for a fake vaccination:
"Some Ukrainians are simply paying doctors to sign off on their digital vaccine certificates, by entering them as vaccinated in Ukraine's state vaccination register. After that, a digital certificate appears in the official Diya app, which is also valid in the EU.

Oleksiy Vyskyb, Ukraine's deputy minister for digital transformation, told ABC News that some doctors were charging a fee to falsely enter people's name into the state register showing vaccinated citizens."
How do we know this happens in Ukraine only? Can we in the West trust our own vaccination rates? Never mind authoritarian and corrupt states like Russia or China.
---
Small-time crooks
Papermill fraud sanctioned
Tiger BB8 notified us of the recent administrative decisions by Chinese authorities regarding the "scientists" who bought fake papers from papermills.
Smut Clyde discusses the findings in the comment section under the articles he wrote.
First, the maths papermill:
"So this happened: A series of Mathsmill papers were condemned by the National Natural Science Foundation, after a thorough investigation (possibly consisting of reading this post).

Decision on handling misconduct cases investigated and handled in 2021 (third batch).

Thanks to Google Translate for the translations. Most of these egregious phenomena have already been retracted by the journals, but not all… perhaps these institution-led condemnations will goad them into doing something."
The standard punishment for all involved was a National Natural Science Foundation grant funding ban for 5 years and a reprimand. Nobody was sacked.
Also the cancer research professor Li Jia was sanctioned for fraud, no papermills there, just her own artisan forgeries.
Smut Clyde comments:
"So this happened: 15 papers by Jia Li were condemned by the National Natural Science Foundation, after a thorough investigation (possibly reading this post).

Decision on handling misconduct cases investigated and handled in 2021 (third batch).

The first of 22 Decisions is as follows (thanks Google Translate for translation). Criticism of the majority of those papers has not seen any response from the journal or the publisher, but perhaps the NNSF show-trial verdicts will goad them into doing something. The second Decision in the webpage relates to five of the same papers, dwelling on the role of another author."
This was decided at the 10th meeting of the 5th Supervisory Committee of the National Natural Science Foundation of China:
"revoke Jia Li The National Natural Science Foundation of China project "Exploration of glycoprotein N-sugar chain as a marker for predicting tumor resistance" (approval number 81071415), "Characteristic changes of glycogenes in leukemia multidrug resistance and its diagnostic value" (approved No. 81271910), "Screening, identification and functional study of leukemia drug-resistant sugar complex markers" (Approval No. 81472014), "Screening of carbohydrate markers for liver metastasis of colorectal cancer" (Approval No. 81772277), withdrawn Funds have been allocated for the above four projects, and Jia Li's national natural science fund project application qualification has been cancelled for 5 years (July 20, 2021 to July 19, 2026), and Jia Li has been criticized in a reprimand".
Again, nobody lost their job.
---
Watchdogs investigate!
Retraction Watch reported about a case of pathetically bad plagiarism in a now retracted book chapter by the Mexican professor Alberto Ochoa-Zezzatti and colleagues, some small-time crooks. Their opus was computer-generated nonsense which apparently also used so-called "tortured phrases" to hide plagiarism. The fraudulent trash was exposed by Guillaume Cabanac, Cyril Labbé and Alexander Magazinov.
But of course the Watchdogs had to find the true culprit! The Retraction Watch founder Adam Marcus writes:
"Ochoa responded to a request for comment with a lengthy email in which he blamed the problems with the chapter on a master's student from Cuba named […]"
The student is then named, and her own reply to Retraction Watch inquiry is duly quoted:
"I started my master's degree and he was given him as a tutor later I did not want to continue studying and I returned to my country I do not know what plagiarism they are talking about and why this man continues to bother me …"
Now, Marcus openly admits this student is not co-author on the retracted book chapter, why was she named and associated with plagiarism, ghost writing and retraction for fraud in this Retraction Watch article then? Because The Watchdogs knew this young Cuban woman in Mexico can't sue them or defend herself otherwise? Was it cruelty out of arrogance or boredom, or male solidarity with her fraudster ex-boss?
---
News in Tweets
Elisabeth Bik's new blog post: "In this post, we'll take a look at IHU/AMU papers describing samples obtained from people in African countries. Many of them lack wording on ethical approval by the local authorities, and all lack authors from these countries. This type of research might fall under the definition of neo-colonial science."
"We don't pick papers to examine at random, so it's possible that the data from the 30 papers we chose are somewhat more reliable, on average, than the rest. A better analogy would be to think of the papers as new cars: If five out of 30 were guaranteed to explode as soon as they entered a freeway on-ramp, you would prefer to take the bus." James Heathers on ivermectin research in The Atlantic
The new Mendel University rector Vojtech Adam explains the data fakeries in his papers: "I am very sorry for the situation that has arisen. I can honestly state that there was no deliberate falsification of data. Doubts were raised about the procedural steps of the research, not about the conclusions. In any case, I am extremely sorry and at this point we are already actively correcting parts of it, including the images. I dare say we are close to addressing all the corrections that are necessary". (Brnensky Denik)
"They'd been tasked with a formidable job: reviewing candidates for the American Geophysical Union's fellows program, the most prestigious award given by the world's largest earth and space science society. But when the group looked at its list of candidates, all nominated by peers, it spotted a problem. Every nominee on the list was a white man." E&E News
---
Make a one-time donation
Make a monthly donation
Choose an amount
Or enter a custom amount
€
---
Your contribution is appreciated.
Your contribution is appreciated.
Donate
Donate monthly