Schneider Shorts of 8 July 2022 – why Schneider can never be a proper investigative journo like certain others, why white doctors are protected in UK, plus rascists in space, Ferrara bully still free from retractions, a hangover pill, various papermills, and a Wake Forest regmed genius taking the piss.
---
Table of Discontent
Science Elites
Science Breakthroughs
Scholarly Publishing
russia's war on Ukraine
---
Science Elites
Racism at the GMC
Peter Wilmshurst has a new blog post about racism at Britain's medical watchdog authority, GMC:
"The suspension of Dr Manjula Arora from the Medical Register for one month after a finding of dishonesty by a General Medical Council (GMC) tribunal has again raised concerns about racial bias in handling of complaints, particularly when the doctor did not train in the UK.1 Dr Arora trained in India."
He refers to an article in The BMJ, whcih reports about Arora's suspension because she according to GMC ruling "exaggerated what she had been told by a senior doctor when making a request for a laptop."
Yes, dear UK patients, these are the kind of "crimes" by British doctors which GMC is eager to investigate and to sanction. A female junior doctor, a foreigner even, tried to get her brown hands onto one of those work laptops which probably are reserved for white doctors only.
Meanwhile, white male and often English born-and-bred doctors can literally get away with murder. GMC doesn't even allow their cases to be admitted.
The Science and Technology Committee of the British House of Commons is now dealing with the trachea transplants performed by the scandal surgeon Paolo Macchiarini and his former parter at UCL, Martin Birchall as part of its inquiry into Research Integrity. Two UK scientists from Liverpool initiated this with their written submission from November 21st…
In yet another investigation, UCL whitewashed Martin Birchall of all responsibilities. I publish here the confidential report and excerpts from a secret PhD thesis, which the UCL committee carefully avoided to read.
Wilmshurst writes he has many examples to offer, but for the sake of brevity he lists some:
Peter Collins, professor of cardiology at the Royal Brompton Hospital in London, who "claimed to have a post-graduate research qualification (a UK MD) that he had not been awarded […] The GMC informed me that no public hearing was required because the GMC had accepted a private assurance from Collins that he would not use false qualifications again."
Richard Eastell, Director of Research of Sheffield NHS Trust and Dean of Sheffield Medical School, "received funding of £4 million annually from Proctor and Gamble for research on risedronate (Actonal), which is used for the treatment of osteoporosis. In return, Proctor and Gamble sent Eastell draft papers to which he added his name as senior author […] even though he had not performed the research or seen the data that the articles reported." In 2009, a GMC tribunal found Eastell to be merely "negligent" and that "there are no issues regarding patient safety".
Clive Handler was in 2002 suspended by GMC for 1 year "because he had embezzled thousands of pounds from a charity research fund". But: already in 1997, his clinic boss Peter Richards (deceased 2012) agreed with Handler that if he "left quietly, the hospital would not make him repay the embezzled money, they would destroy documents compiled during the hospital investigation and they would not report Handler to either the police or the GMC." At that time, Richards was not only Dean of St Mary's Hospital Medical School, Pro-Rector of Medicine at Imperial College and Chairman of the Council of Deans of UK Medical Schools & Faculties, but also GMC's chair of the Professional Conduct Committee. He then "appointed himself to chair Handler's GMC tribunal", but then "was forced to recuse himself" due to pressure from Wilmshurst, who reports that "GMC refused requests from me and its own lawyers to bring charges of misconduct against Richards for his collusion in the cover up of criminal conduct."
Handler is now professor at UCL. Collins is professor at Imperial College. Eastell is Director of the Mellanby Centre at University of Sheffield. Richards died in 2012, adored by his peers as "innovator in medical education" and his "ever present humour, hinted at by a deft word or a twinkle in the eye".
All these are white Englishmen, and there are many more like them in British medicine, whose professional misconduct damaged peers and killed patients, and who never really had to answer for their deeds.
In 2017, UCL invited an external expert commission to investigate the deadly trachea transplants performed by the former UCL honorary professor Paolo Macchiarini. An already sacked UCL nanotechnology professor, Alexander Seifalian, whose lab made the two UCL plastic POSS-PCU tracheas in 2011, was announced as the main culprit on UCL side. All this despite Seifalian's…
But hey, GMC would like you to appreciate that they revoked for one year the medical licence of an Indian woman for asking for a laptop.
---
Zauli concerned
The evil retired rector of the University of Ferrara in Italy, Giorgio Zauli, now faces the consequences of the research fraud he published.
Well, not really.
Giorgio Zauli's rectorship term ends. Will research fraud, media harassment and whistleblower persecution be a thing of the past at the University of Ferrara? Ma dai, basta cazzate.
Zauli has over 40 fraudulent papers flagged on PubPeer, and he had to retract exactly ZERO. He issued literally just a couple of corrections. All because he loves to issue legal threats and because his university destroyed its own investigative report, which was meek and whitewashing anyway.
And now one society journal, likely afraid to issue retractions for fear of Zauli's and Ferrara University's lawyers, decided to at least publish an Expression of Concern for 3 of his papers. Four years after the concerns were raised and published on my site.
Here are the 3 papers in the AACR journal Clinical Cancer Research:
Rebecca Voltan , Paola Secchiero, Barbara Ruozi , Flavio Forni , Chiara Agostinis , Lorenzo Caruso , Maria Angela Vandelli , Giorgio Zauli Nanoparticles engineered with rituximab and loaded with Nutlin-3 show promising therapeutic activity in B-leukemic xenografts Clinical Cancer Research (2013) doi: 10.1158/1078-0432.ccr-13-0015
The editorial note from 1 July 2022 stated just this:
"The editors are publishing this note to inform readers of a concern about this article (1): the tubulin control in Fig. 2A is similar to both the EHEB tubulin and the JVM2 tubulin panels in Fig. 2C of the authors' earlier work (2)."
From the note it is obvious there were lawyers involved. The editors don't even dare to say the gel bands are copy-pasted, only that they are "similar". And they sure don't dare to have an opinion on that.
Giorgio Zauli, Rebecca Voltan , Raffaella Bosco , Elisabetta Melloni , Sandra Marmiroli , Gian Matteo Rigolin , Antonio Cuneo , Paola Secchiero Dasatinib plus Nutlin-3 shows synergistic antileukemic activity in both p53 wild-type and p53 mutated B chronic lymphocytic leukemias by inhibiting the Akt pathway Clinical Cancer Research (2011) doi: 10.1158/1078-0432.ccr-10-2572
The editorial note said:
"The editors are publishing this note to inform readers of a concern about this article (1). Figures 3A and 4B contain three sets of similar tubulin control panels: the left panels of Fig. 3A MEC-2 tubulin and the P-ERK 1/2 tubulin panels in Fig. 4B; the right panels of Fig. 3A JVM-2 tubulin and the P-p38 tubulin panels in Fig. 4B; and the right panels of Fig. 3A BJAB tubulin and the P-Akt tubulin panels in Fig. 4B."
This means, the publisher did their own investigation and found even more fraud. But Zauli's lawyers then probably sent a dead canary or a horse's head to AACR offices.
Paola Secchiero, Rebecca Voltan , Maria Grazia Di Iasio , Elisabetta Melloni , Mario Tiribelli, Giorgio Zauli The oncogene DEK promotes leukemic cell survival and is downregulated by both Nutlin-3 and chlorambucil in B-chronic lymphocytic leukemic cells Clinical Cancer Research (2010) doi: 10.1158/1078-0432.ccr-09-3031
The editorial note here, also from 1 July 2022, was:
"The editors are publishing this note to inform readers of concerns about this article (1). Figures 5C and 6A contain two sets of similar control blots: p53 Nutlin-3 scr.+ in Fig. 5C and p53 Nutlin-3 24 h in Fig. 6A; and tubulin Nutlin-3 DEK+ in Fig. 5C and tubulin Nutlin-3 48 h in Fig. 6A. In addition, the siRNA tubulin scr. 24-hour and 48-hour bands in Fig. 4A are similar to the Normal B cells DEK Nutlin-3 24-hour and 48-hour bands in Fig. 6A."
All because research fraud is so entrenched in Italian academia that a) the university never properly investigated Zauli and destroyed own report, b) Italian far-right politicians made sure Zauli is untouchable, c) Italian courts will definitely side with him and University of Ferarra against every publisher and journal daring to retract his fraudulent papers.
Giorgio Zauli is Italian clinical haematologist and cancer researcher, Rector of the respected University of Ferrara. In this position he might soon be investigating his own papers for suspected data manipulation.
University of Ferrara rejected a journalist's FOI request about the investigation of its own Rector. The arguments: the media is biased and drives a slander campaign against Giorgio Zauli, and in any case, his research can only be evaluated in a "Science Court" by peer review.
---
Demasi investigates
Not about academic elites, but Dr Maryanne Demasi is the elite of science journalism for sure. She writes as "investigative journalist" for The BMJ, fighting at the forefront of biomedical ethics. Like now:
"Patients and doctors expect drug regulators to provide an unbiased, rigorous assessment of investigational medicines before they hit the market. But do they have sufficient independence from the companies they are meant to regulate? Maryanne Demasi investigates"
I wish I was a proper science and medicine journalist like Dr Demasi, celebrated by my colleagues in media, academia and industry, a hero of investigative journalism uncovering real fraud and real scandals, three times winner of National Press Club of Australia prizes for 'Excellence in Health Journalism', and a former advisor to the South Australian Government's Minister for Science and Information Economy. But….
Australian news from 2018:
"An independent inquiry for the University of Adelaide has found it "could not be satisfied that any research misconduct had occurred," in the 2004 PhD thesis of medical scientist and controversial science journalist Maryanne Demasi. […]

The inquiry report, quietly published on UniAdelaide's website, states that Dr Demasi denied the dupication alleged in 14 instances but said she had, or probably had, duplicated images in the other three.

The inquiry heard the original x-ray film of "the impuged figures" was lost, or "discarded in accordance with appropriate records management requirements," during the 14 years since Dr Demasi submitted her thesis. The inquiry report states the panel accepted this evidence, that "they could not be satisfied that duplication had taken place."

Dr Demasi said that in the case of the other three images she had understood at the time that duplication was acceptable. "The relevant experts agreed, albeit they considered duplication was not best practice. The panel accepted this evidence. They could not be satisfied that the duplication constituted a deviation from the applicable standards at the relevant time," the report states."
The University of Adelaide soon after deleted the report's one-page summary, but Retraction Watch stores a copy here. I made a screenshot:
Let's have a look at what practice the University of Adelaide decided to be perfectly honest and acceptable viz Dr Demasi. Absolutely nothing out of order in this paper, I mean how are you supposed to graduate without faking data, come on:
The journal did nothing, trusting the university. At least here the journal was "concerned":
Maryanne Demasi, Leslie G. Cleland, Rebecca J. Cook-Johnson, Michael J. James Effects of hypoxia on the expression and activity of cyclooxygenase 2 in fibroblast-like synoviocytes: interactions with monocyte-derived soluble mediators Arthritis & Rheumatism (2004) doi: 10.1002/art.20429
The data make be officially fake, but in 2019, the journal closed the case with an Expression of Concern:
"…to inform readers that questions regarding the similarity of images used in Figures 1, 2, and 6 of the above‐referenced article were raised, which may be pertinent to the data and conclusions of the article. An inquiry convened by the University of Adelaide, SA, Australia did not find research misconduct."
This paper however was retracted because JBC used to care for research fraud back then:
Maryanne Demasi, Leslie G. Cleland, Rebecca J. Cook-Johnson, Gillian E. Caughey , Michael J. James Effects of hypoxia on monocyte inflammatory mediator production: Dissociation between changes in cyclooxygenase-2 expression and eicosanoid synthesis Journal of Biological Chemistry (2003) doi: 10.1074/jbc.m305944200
The 2018 retraction notice stated:
"An investigation by the Journal determined the following. In Fig 4, the "no LPS" lanes in the GAPDH Northern blots were duplicated between normoxic and hypoxic conditions. In Fig. 6A, several bands were duplicated in the COX-2 immunoblot. In Fig. 10, the first lanes between normoxic and hypoxic conditions were duplicated in the phosphorylated cPLA2 immunoblot. Additionally, in Fig. 10, lane 3 of the normoxic panel was reused in lane 2 of the hypoxic panel."
Now I know I don't have the skills to be a great science journalist like Dr Demasi at The BMJ. Instead, I spend my time scribbling here, for the sad little audience of of pathetic failed scientists and surrounded by the sad little online company of pseudonymous PubPeer trolls who have no other purpose in life but to besmirch the reputations of scientific elites. Elites like Dr Demasi, investigative journalist.
Hey, I also published in The BMJ. Took us years though.
Paolo Macchiarini affair: I reproduce the letter Patricia Murray, Raphael Levy, Peter Wilmshurst and myself published in The BMJ on 2 March 2022. I also publish Wilmshurst's appeal to the UCL leadership.
Update 10.07.2022: One article by a different M. Demasi was added erroneously and has been now removed.
---
Science Breakthroughs
Dr Atala takes the piss
I have written so much about the thoracic surgeon and trachea transplanter Paolo Macchiarini, but almost nothing about his US counterpart, the urologist and bladder transplanter Anthony Atala. Both regenerative medicine enthusiasts used to be celebrated as geniuses years around a decade ago, both used a similar method of decellurisation and "stem cell" recellurisation of dead donor organs before transplanting into living patients. But there several important differences between the two surgeons:
Atala was stopped after his first bladder transplant, removed from Boston Children's Hospital and sent away to Wake Forest, where he is not allowed to experiment on patients anymore. Macchiarini was never stopped, but kept moving employers and countries after each series of deadly trachea transplants, until whistleblowers and journalists in Sweden finally exposed his fraud and his crimes.
Atala seems quite content with bullshitting via preclinical lab research, Macchiarini always hated that and went on to experiment on humans straight away, even when explicitly not allowed to.
A failed trachea transplant leads to death very fast, and there is virtually no way to save the patient. A failed bladder transplant can be amended with conservative interventions.
This is my review of the Russian book "Megagrant", which tells of Macchiarini's adventures with the plastic trachea, much of it played out in Russia, funded by a state Megagrant of €4.5mn. Some books are namely only good as court evidence.
As the result, everyone (rightly) hates Macchiarini. Atala however is still celebrated as a genius of regenerative medicine. Just now, on 10 June 2022, he won an award from American College of Surgeons for his bullshit bladder transplant:
"Dr. Atala is a pediatric urologist, researcher, professor, and mentor who is renowned for developing foundational principles for regenerative medicine research, which holds great promise for people who require tissue substitution and reconstruction. Dr. Atala and his team successfully implanted the world's first laboratory-grown bladder in 1999.[…]

Through Dr. Atala's vision, ingenuity, and leadership, the WFIRM team has developed specialized 3-D printers to engineer tissues. This work is accomplished by using cells to create various tissues and organs, including miniature organs called organoids to create body-on-a-chip systems. Dr. Atala and his team also discovered a stem cell population derived from both the amniotic fluid and the placenta, which are currently being used for clinically relevant research applications."
But here is now a new discovery by the stem cell quack urologist Atala for you to admire. "Stem cells" in urine.
A press release by Wake Forest Baptist Medical Center:
"The Wake Forest Institute for Regenerative Medicine (WFIRM) researchers who were the first to identify that stem cells in human urine have potential for tissue regenerative effects, continue their investigation into the power of these cells.

In their latest published study, they focus on how telomerase activity affects the regenerative potential of these and other types of stem cells."
Here is Atala's new NIH-sponsored study, published with the world's bestest science publisher, Frontiers:
Yingai Shi , Guihua Liu , Rongpei Wu , David L. Mack , Xiuzhi Susan Sun , Joshua Maxwell , Xuan Guan , Anthony Atala , Yuanyuan Zhang Differentiation Capacity of Human Urine-Derived Stem Cells to Retain Telomerase Activity Frontiers in Cell and Developmental Biology (2022)
doi: 10.3389/fcell.2022.890574
It's the continuation of old Atala idiocies:
"Our previous study was the first to demonstrate that progenitor/stem cells exist in the urine, thus we proposed the name urine-derived stem cells (USCs) (Zhang et al., 2008; Bodin et al., 2010; Wu et al., 2011; Bharadwaj et al., 2013)."
As you see, the new urine stem cell leak happens almost a decade after the last, a serious case of urine stem cell retention, Dr Atala! The Bharadwaj et al 2013 paper was before the Macchiarini scandal, back in those days every kind of newly found "stem cell" was multipotent and ready to regenerate every organ in the body. As Atala and colleagues assured in their 2013 study:
"Upon induction with appropriate media in vitro, USCs differentiated into bladder-associated cell types, including functional urothelial and smooth muscle cell lineages. […] Additionally, USCs were able to differentiate into endothelial, osteogenic, chondrogenic, adipogenic, skeletal myogenic, and neurogenic lineages but did not form teratomas during the 1-month study despite telomerase activity."
The new paper in Frontiers still insists the urine cells are still able of all of that, and who are we to argue with Frontiers' authority.
Atala now is quoted in the press release:
""Being able to use a patient's own stem cells for therapy is considered advantageous because they do not induce immune responses or rejection," said WFIRM Director Anthony Atala, MD, who is a co-author of the paper. "Additionally, the non-invasive collection method is suitable for rapid clinical translation.""
Piss off, you quack.
---
Hangover Pill
Speaking of. There is a simple solution to getting pissed, a magic pill which prevents hangover. Newsweek journalists seem convinced:
"A pill that goes on sale in the U.K. on Monday holds out the prospect that many drinkers have long dreamed of—being able to have a few drinks without suffering the full after-effects of a hangover the next day.

Sold at £1 ($1.21) per pill, Myrkl's makers say that if you take two pills at least one hour before drinking, it will result in "up to 70 percent of alcohol [being] broken down after 60 minutes", and is the "first product in history to break down alcohol effectively".

Swedish firm De Faire Medical invented the pills in 1990 and has been doing further research on them since then, according to the website.

The pills contain a "science based formulation" of bacteria, L-cysteine (an amino acid found in tuna and oatmeal) and Vitamin B12 (found in meat, eggs, and milk, among other sources)."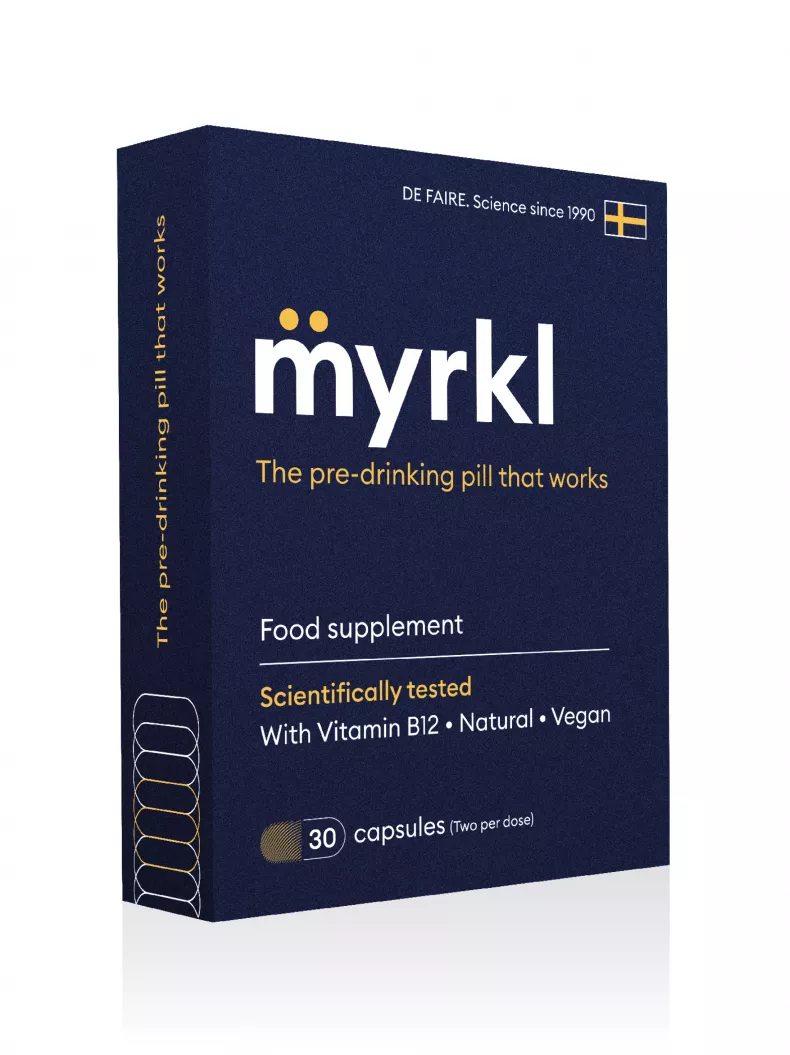 It works by harnessing the magic of gut microbiome!
"Myrkl's makers say the pill combats the onset of a hangover by activating its bacteria (Bacillus subtilis and Bacillus coagulans), L-cysteine and B12 in the gut, before the alcohol reaches the liver. They then work together to break the alcohol down into water and carbon dioxide, with minimal production of acetaldehyde or acetic acid."
Not convinced? Peer-reviewed science can't be argued against!
"A clinical study of the Myrkl pills was published in the journal Nutrition and Metabolic Insights, which involved a placebo-controlled double-blind crossover study with 24 subjects.

While the study found that the blood alcohol of participants significantly reduced by 70 percent, the subjects only consumed 0.3 g of spirit per kg of body weight, which the authors admit led to no measurable relevant alcohol concentrations in the blood in 10 cases (42 percent). Additionally, this 70 percent reduction only came after a week of supplementation, and the study involved a very small sample size of 24, further reduced to 14 by the low alcohol intake.

The study was funded by De Faire Medical AB (DFM), the manufacturers and inventors of Myrkl."
This was the paper, published in a Sage journal on 23 June 2022:
Andreas Pfützner, Mina Hanna, Yuriko Andor, Daniela Sachsenheimer, Filiz Demircik, Tobias Wittig, Johan de Faire Chronic Uptake of A Probiotic Nutritional Supplement (AB001) Inhibits Absorption of Ethylalcohol in the Intestine Tract – Results from a Randomized Double-blind Crossover Study Nutrition and Metabolic Insights (2022) doi: 10.1177/11786388221108919
The last author is the De Faire company founder and owner, others are with two German service companies based in Mainz.
"Double-blind crossover study", make your own jokes about this research.
---
Scholarly Publishing
Retraction Watch scoop
Here are another two science journalists whose professionalism and omniscience I greatly admire: Ivan Oransky and Adam Marcus of Retraction Watch.
This time, they manage to grant the entire credit for uncovering a russian papermill, International Publisher, to themselves and to three other white US men, in an article titled "'Our deepest apology': Journal retracts 30 likely paper mill articles after investigation published by Retraction Watch":
"The investigation, by Brian Perron of the University of Michigan, high school student Oliver Hiltz-Perron, and Bryan Victor of Wayne State University, identified nearly 200 published papers with apparent links to a Russian company named International Publisher. Many of those articles were published in the International Journal of Emerging Technologies in Learning, or iJET, and the researchers notified the journal of their findings. "
That is all very nice, but the article never mentions the much more extensive investigation of this same russian papermill by Anna Abalkina, a scientist from russia who is now based in Germany (read here). She also published her work as a preprint:
Anna Abalkina, Publication and collaboration anomalies in academic papers originating from a paper mill: evidence from a Russia-based paper mill, arXiv (2021) doi: 10.48550/arXiv.2112.13322
For some reason, Retraction Watch wants you to believe that International Publisher only placed products in the quasi-predatory trash journal iJET (which is "commended" for retracting the mill papers, and the editor extensively quoted), and in MDPI:
"They found 29 such papers published in iJET, nine of them in the same issue of the journal, and contacted the journal editors as well as the authors listed on all the papers. They also identified six papers with possible links to the paper mill that were published in MDPI journals. "
That is actually not the whole truth. Abalkina published a Google Sheets file, which is constantly updated, where one can read that this russian papermill products were placed also with "reputable publishers (Elsevier, Springer Nature, Emerald, Wiley, Taylor &Francis, etc.)".
And as for MDPI, Abalkina found out it was 21 papers, and MDPI were not helpless victims:
"Analysis of offers and papers potentially originating from the paper mill allowed us to identify at least one episode of questionable collaboration between editors of MDPI journals and "International Publisher" LLC. […] Some of these Eastern European coauthors were editors of several MDPI journals or guest editors of special issues. One could suggest that it is a coincidence, but some of the offers on the 123mi.ru website mentioned straightforwardly that one coauthorship slot of the paper was reserved for the editor of the journal…"
But then again, surely the omission of Abalkina is innocuous, and Oransky and Marcus simply never heard of this non-American woman somewhere in Europe toiling in the field already perfectly covered by male US experts?
Well. Retraction Watch boasted just a month ago of having established a "The Retraction Watch Hijacked Journal Checker." There, Abalkina was mentioned in the text, even with a photo. She is making and updating the Google Drive file, Retraction Watch gets the credit.
But for the russian papermill, Abalkina won't get even a tiny mention now, all credit duly goes to white US men.
---
The data remain reliable & we view the matter closed
How Wiley cracks down on papermill fraud:
Shashuang Yu , Wenqi Xin , Qiliang Jiang , Aixiang Li Propofol exerts neuroprotective functions by down‐regulating microRNA‐19a in glutamic acid‐induced PC12 cells BioFactors (2020) doi: 10.1002/biof.1607
Elisabeth Bik wrote on PubPeer in February 2020:
"This paper belongs to a set of over 400 papers [over 630 now, thanks to Smut Clyde's digging, -LS] that share very similar Western blots with tadpole-like shaped bands, the same background pattern, and striking similarities in title structures, paper layout, bar graph design, and – in a subset – flow cytometry panels. Despite these similarities, these papers are authored by researchers from different departments and institutes, with almost no overlap in authors.

The list of these papers is available here: https://docs.google.com/spreadsheets/d/1KXqTAyl4j-jVorFPMD2XRpr76LcIKJ0CVyIvRj0exYQ/edit?usp=sharing

A more detailed description of this set of papers, suspected to all be generated by a common source, a 'paper mill', can be found here:"
An investigation by Elisabeth Bik, Smut Clyde, Morty and Tiger BB8 reveals the workings of a paper mill. Its customers are Chinese doctors desperate for promotion. Apparently even journal editors are part of the scam, publishing fraudulent made-up science.
Indigofera tanganyikensis informed in July 2021
"Please see the reply from the publisher Wiley:

"Hi, the journal reviewed 16 papers. 7 showed potential irregularities. Investigations showed that image manipulation had taken place but was confined to normalizing background & didn't alter intensity of the bands. The data remain reliable & we view the matter closed.""
Now, read this while thinking of expletives to describe these stupid arrogant fraud-peddling nincompoops at Wiley. Hoya camphorifolia quotes from an investigation by Henan University (translated, highlights mine):
"In order to strengthen the construction of scientific research integrity, severely punish violations, and create a good environment for scientific and technological innovation , the relevant paper issues recently investigated and dealt with by this unit are hereby notified as follows.

Huaihe Hospital of Henan University purchased SCI papers in Shashuang. After investigation, Li Aixiang is the corresponding author, and Yu Shashuang is the first author of the paper "Propofol exerts neuroprotective functions by down-regulating microRNA-19a in glutamic acid-induced PC12 cells", which Yu Shashuang purchased and wrote through a third party. At the same time, in violation of the authorship rules, without the knowledge of other authors, Li Aixiang was signed as the corresponding author, and other colleagues were signed as common or participating authors. Henan University will deal with the relevant responsible persons as follows:

Yu Shashuang will be given a warning, spoken out a scientific research reprimand, ordered to withdraw the manuscript, and the whole school will receive criticism; postpone the qualification for professional title promotion for 1 year; cancel the qualification to undertake financial support projects, apply for or declare science and technology projects (special projects, funds, etc.), science and technology awards, the qualifications for the title of scientific and technological talents, the qualifications for evaluation and evaluation, and the qualifications for nominating or recommending persons, and acting as reviewing expert for 3 years. Li Aixiang will be given a lecture on scientific research integrity, the whole school will receive criticism, and the qualification for evaluation will be cancelled for one year."
The decision is from October 2021. Wiley knows. But these [***] view the matter closed.
"We have initiated post-acceptance peer review with independent reviewers… " – Wiley.
---
Karger legacy
Another fake study, by the same Chinese papermill, also flagged by Elisabeth Bik in February 2020.
This journal Cellular Physiology and Biochemistry used to be owned by Karger, and is now published by German academics, led by Erich Gulbins.
Dexin Yin , Changgeng Fu , Dajun Sun Silence of lncRNA UCA1 Represses the Growth and Tube Formation of Human Microvascular Endothelial Cells Through miR-195 Cellular Physiology and Biochemistry (2018) doi: 10.1159/000493454
It was retracted in May/June 2022, here is the notice:
"After the publication of this article, concerns were raised about the integrity of some of the data presented. The authors responded to our query and provided the raw data. This material was reviewed and found to reflect the data presented in the article.
Recently, the results of an investigation by the authors' institution were published, details can be found here:
http://www.most.gov.cn/zxgz/kycxjs/kycxgzdt/202201/t20220127_179206.html
The result of the investigation indicates that evidence of misconduct was identified within the article. The authors' institution did not respond to our request to provide more detail about the results of the investigation and the authors did not respond to our request to comment on the results of the investigation within the specified timeframe.
The authors did not respond to our correspondence about the retraction of this article."
Basically, Karger, just like Wiley, looked at the evidence of massive fraud, and then decided: so what the paper was fabricated by a papermill? Authors paid good money for the Open Access and it looks exactly like the kind of science we prefer to publish.
Cheshire quotes the findings by Chinese Ministry of Science and Technology from January 2022 (translated, highlights mine):
"44. The paper "Silence of lncRNA UCA1 Represses the Growth and Tube Formation" by Sun Dajun of Jilin University China-Japan Friendship Hospital as the corresponding author, Yin Dexin of Jilin University China-Japan Friendship Hospital and Fu Changgeng of Beijing University of Traditional Chinese Medicine Oriental Hospital as the first authors of Human Microvascular Endothelial Cells Through miR-195". After investigation, the paper has the behavior of buying and selling paper data. Yin Dexin (merged with the other 6 papers) will be dealt with as follows: lifelong cancellation of application qualifications for science and technology projects (special projects, funds, etc.) […]"
---
Russia's War on Ukraine
Rascists in Space
Gone are the days when international space exploration was supposed to be a peace-bringing activity.
Three russian cosmonauts space rascists are now celebrating their country's mass murders of Ukrainian (russian-speaking) population in the name of imperial territory expansion.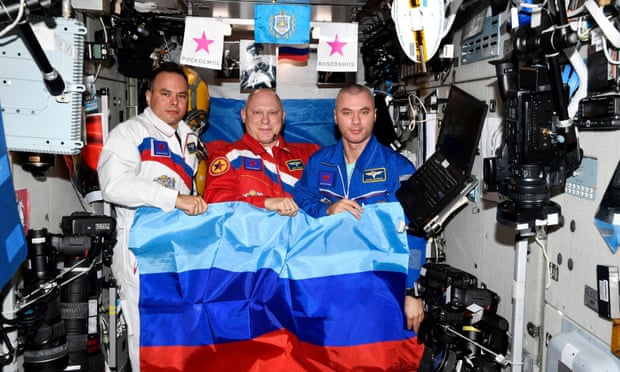 They paraded with the flags of two rascist puppet pseudo-states, the so-called "Luhansk People's Republic" and "Donetsk People's Republic" on the International Space Station, the ISS. The occasion was the rascist army having destroyed and conquered the city of Lyssichansk. Here for example Guardian reporting:
"The message accompanying the pictures says: "Liberation Day of the Luhansk People's Republic! We celebrate both on Earth and in space."

Roscosmos goes on in the statement to say: "Roscosmos and our cosmonauts, who are working today at the International Space Station, join the congratulations of the head of the LPR, Leonid Pasechnik, on the 'new Day of the Great Victory'.

"This is a long-awaited day that residents of the occupied areas of the Luhansk region have been waiting for eight years. We are confident that 3 July 2022 will for ever go down in the history of the republic. Citizens of the allied Donetsk People's Republic, wait!""
Mass murders, rapes, torture, deportations, destruction – so far such things were never openly celebrated on the ISS. On top of everything, one of these so-called people's republics recently announced to execute foreign PoWs, after a mock "court" trial and with full support from their russian bosses (Ukrainian PoWs are killed and tortured to death without public announcements and fake "court" trials).
But US and other ISS participating nations didn't dare to say a word in protest because they believe the ISS can't be operated, financed and supplied without russia.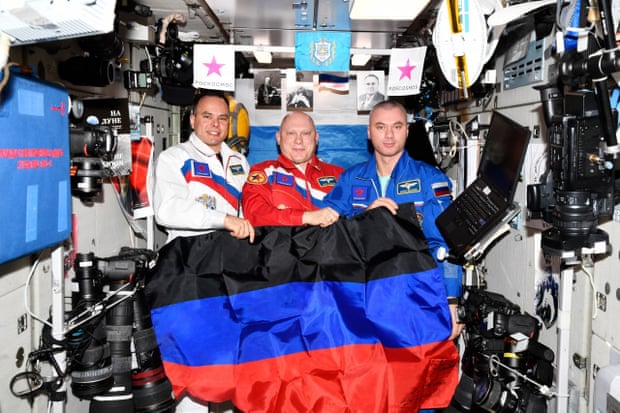 Maybe the 3 space rascists will continue the tradition of rascist occupiers in Ukraine and do the following before they return to Earth:
Steal electronic devices and other valuables from the ISS
Steal food, women's underwear, toys and toilets from the ISS
Defecate all over ISS, spray graffiti "Who allowed you to live so nice?"
Drunkenly comb the ISS for someone to rape
Blow up the ISS with the Americans and Europeans inside, and say Ukrainian "Azov Nazis" did it.
The state it's in, we don't need Russian science anyway.
---
News in Tweets
IHU Marseille employee Eric Ghigo, once sacked for sexual harassment and racism by CNRS, and then sneaked back by the current IHU director Didier Raoult and the future director Pierre-Edouard Fournier, has now been sentenced by a criminal court for sexual assault and sexual harassment to 18 months prison. 12 months were suspended completely and the remaining 6 months he will spend at home with electronic ankle bracelet (La Provence). Meaning Ghigo can continue to work at IHU!
Alexander Samuel explains a covidiot study by Rubik & Brown, "Evidence for a connection between coronavirus disease-19 and exposure to radiofrequency radiation from wireless communications including 5G", and the people who celebrate it.
Cassava Sciences is obviously run by criminal idiots. They defence is: if you scrutinise our western blots too closely, it is you who is the fraudster! And the CUNY university must burn its investigative report because some journal editor said something. I do not envy the CUNY investigators.
"even Theranos didn't submit fake data to FDA"
Attack is the best form of defence. Especially when your commercial clinical research is tainted by preclinical Photoshop fraud.
David Argyle, the Bully of Edinburgh and cruel ruler of Royal Dick veterinary school (newly promoted to dean of medicine), was caught with yet more fabricated data in his papers. Of course the University of Edinburgh doesn't care, just as Frontiers doesn't care, but this won't improve Argyle's reputation for sure.
David Argyle was about to become President of the Royal College of Veterinary Surgeons. But then bullying allegations emerged, which the University of Edinburgh swiftly dismissed and suppressed. Now they can do same with the data integrity concerns in Argyle's research.
"I have worked at several universities in my career, and never have I encountered the degree of bullying, harassment, intimidation, and discrimination that I have here. The atmosphere is utterly toxic, and everyone is scared to say anything in case it is heard and reported to [David Argyle] or [Richard Mellanby]. It is like working…
Cheshire investigates the forgeries of Shaker Mousa of Albany College of Pharmacy and Health Sciences: "Answering my own question, yes, most of these images published in error in Endocrinology do seem to have appeared in a 2005 paper, Journal of Cardiovascular Pharmacology (2005), doi: 10.1097/01.fjc.0000175438.94906.a0: approximately 15 years before at least one of them arrived in the International Journal of Nanomedicine paper."
Nanotech fabricator Thomas Webster, surprisingly sacked for fraud at Northeastern University despite past history of protection, now explores alternative business models.
At the Swiss federal university ETH Zürich, female MSc graduates cannot qualify for an award because of their feeble inferior wet brains.
Carl Elliott in Hedgehog Review: "The challenge of institutional ethics training is not just that of teaching employees the rules, regulations, and norms. The challenge is persuading them to care. For this reason, it matters critically not just what is taught, but who teaches it. No matter what the content of a sexual misconduct course might be, that course should not be taught by Bill Cosby." Or Laurence Drouard, as it happens at IBMP-CNRS institute in Strasbourg
A 2014 publication from the lab of Laurence Maréchal-Drouard, director of CNRS IBMP institute in Strasbourg, seems to contain evidence of inappropriate data manipulation. Other versions of this problematic figure appear in 2 PhD dissertations supervised by Drouard
---
I thank all my donors for supporting my journalism. You can be one of them!
Make a one-time donation:
I thank all my donors for supporting my journalism. You can be one of them!
Make a monthly donation:
Choose an amount
Or enter a custom amount
€
---
Your contribution is appreciated.
Your contribution is appreciated.
Donate
Donate monthly