Is glyphosate totally safe as scientists say? I followed up the discrepancy between how scientists advise you to treat glyphosate, and how they handle it themselves.
The takeover of Monsanto, the company behind glyphosate (RoundUp) and glyphosate-resistant (RoundUp-Ready) GMP crops, by the German chemistry giant Bayer in 2018, was probably the most stupid investment decision in modern business history. Just recently, Bayer lost a court appeal and has to pay $25 million to a cancer sufferer over glyphosate exposure (most of that money will go to the plaintiff's lawyers). $25 million may not sound like much for Bayer, but it was the second appeal it lost and there are many thousands of lawsuits like this one waiting to be resolved, in USA alone. Bayer was hoping to get them all settled with a giant payout of $11 billion, but it's not yet clear if the US court will accept the proposal. The decision will be made on 19 May 2021.
But is glyphosate safe or not? I wrote about glyphosate before, and this is my new take on the occasion of the court decision.
Safe to spray
Did the plaintiffs lie about their cancer being caused by glyphosate exposure? This is what you are told to believe, not just by Monsanto shills like the racist eugenicists of Genetic Literacy Project (GLP) and the sociopathic "think tank" American Council on Science and Health (ACSH, more about their attitude at the end). A number of scientists extols the safety of glyphosate to journalists and on social media, reiterating that it's less toxic than vinegar, hot tea or beef. They keep warning you that glyphosate's alternatives can be properly toxic (well, ACSH claims that no pesticide is toxic). But the question is not how glyphosate toxicity compares to other pesticides, it is a straw man debate. Because with other pesticides, the users and consumers are generally warned about toxicity dangers, which is one reason why these are being banned, avoided or at least used sparingly.
Glyphosate instead was sprayed as if it was water.
Monsanto was sentenced in US courts to pay multi-million heavy damages to cancer sufferers because the company lied and denied glyphosate's potential dangers, which was the secret of the product's economic success. Exactly because consumers felt totally safe, they sprayed glyphosate like water everywhere, in gardens, school yards, and of course also fields. The users wore no particular personal protective equipment (PPE), why should they if the Monsanto product label said no PPE was needed.
When Monsanto's RoundUp-Ready GMO plants arrived on the market, even more glyphosate was sprayed on the already drenched fields. Normally, herbicides are applied in agriculture sparingly simply because you don't want to kill your crop together with the weeds, or you don't want to get fined for poisoning the consumers with pesticide residues. But when the GMO crop is genetically resistant, you can spray as much glyphosate and as often as you want, your only limitation being the costs of RoundUp. But then, the weeds evolved glyphosate resistance, so you need to spray even more, and add further herbicides on top. But hey, why worry, didn't Monsanto clearly say glyphosate was literally safe to drink, no more toxic than table salt? Science has spoken, don't bother about farm worker exposure or residues in food.
This herbicide acts as inhibitor of the plant enzyme 5-enolpyruvylshikimate-3-phosphate synthase which animals do not possess. Which is used by actual scientists as rock-solid argument that glyphosate must be 100% safe for humans. This logic however has a flaw. No inhibitor is 100% specific, simply because chemicals don't read manufacturer labels before acting. There is no reason to assume glyphosate is unable to interfere, especially at high exposure levels, with some other molecular pathways humans do have. The initial claims of the Agricultural Health Study that glyphosate would not cause cancer in farm workers are not as solid anymore as they were once portrayed. There are also studies showing glyphosate's toxicity on the intestinal microbiome, and studies on the toxicity of RoundUp's other ingredients. New research keeps regularly popping up, about glyphosate's and RoundUp's negative effect on other organisms, not just plants.
If a substance is suspected to be unsafe, you will be instructed to take protection, like wearing PPE (gloves, googles, face mask) when using it. So what do scientists wear when handling glyphosate?
Hat, shoes, socks
When I published my review of the book "Monsanto papers", I somehow ended up in a Twitter discussion with Andrew Kniss, professor of weed science at the University of Wyoming. I wanted to know what kind of PPE scientists themselves wear when applying glyphosate, especially since these same scientists keep educating the public that glyphosate was perfectly safe. Kniss blogged in a (meanwhile deleted) post that home-made organic herbicide made of salty vinegar were much more toxic than RoundUp:
"In both toxicity measures, acetic acid is more toxic than glyphosate. Salt is more toxic to rats compared to glyphosate when exposed orally. The dermal toxicity numbers are a little more difficult to interpret, since for both glyphosate and salt, the values are listed as greater than a value. […] Pound per pound, glyphosate actually appears to be less acutely toxic to the mammalian test organisms compared to acetic acid or salt. […]
All joking aside, the important thing to keep in mind is that both the homemade vinegar + salt mixture and Roundup are pretty darn safe when used properly, they're both relatively inexpensive".
Kniss explained to me on Twitter that the required PPE for glyphosate application was "Longs sleeves, hat, shoes, socks" (my tweets have all been since deleted by Twitter together with my account upon requests from French Nazis). I asked Kniss if there was anything else on PPE one needs to wear, he refused to reply, apparently insisting that this dress code of long sleeves, hat and socks is indeed the PPE in itself.
So I asked Kniss' University of Wyoming what kind of PPE their students and employees are required to wear when handling glyphosate. That was on 9 March 2021. On 18 March, I finally received a reply, from Interim Provost and Vice president for academic affairs, Dr. Anne M. Alexander:
"After discussing with Dr. Kniss, I can assure you that he instructs our students and pesticide applicator trainees in the proper use of PPE and pesticide safety. He has not instructed anyone nor does he believe that 'socks and hats' are a sufficient level of PPE for applying pesticides."
I then asked for the definition of PPE, and whether it includes gloves or a face mask. Thundering silence back. So I had to submit an official Freedom of Information (FOI) inquiry. The university was so kind as to inform me they will make an exception and I won't have to pay for the information. Which arrived merely five weeks later, on 1 May 2021:
"Please see attached for responsive records to your below request dated March 24, 2021. Please note that while the University does not have any additional records, the University requires students and employees to wear at least the PPE specified on each product label."
This was the only attachment, a Sigma Aldrich data sheet, from December 2015.
Let's see what kind of PPE it advises to wear.
8.2 Exposure controls
Appropriate engineering controls
Handle in accordance with good industrial hygiene and safety practice. Wash hands before breaks and at the end of workday.
Personal protective equipment
Eye/face protection
Face shield and safety glasses Use equipment for eye protection tested and approved under appropriate government standards such as NIOSH (US) or EN 166(EU).
Skin protection
Handle with gloves. Gloves must be inspected prior to use. Use proper glove removal technique (without touching glove's outer surface) to avoid skin contact with this product. Dispose of contaminated gloves after use in accordance with applicable laws and good laboratory practices. Wash and dry hands.
Full contact
Material: Nitrile rubber Minimum layer thickness:0.11 mm Break through time: 480 min Material tested: Dermatril® (KCL 740 / Aldrich Z677272, Size M)
Splash contact
Material: Nitrile rubber Minimum layer thickness:0.11 mm Break through time: 480 min Material tested: Dermatril®(KCL 740 / Aldrich Z677272, Size M) […]
Body Protection
Complete suit protecting against chemicals, The type of protective equipment must be selected according to the concentration and amount of the dangerous substance at the specific workplace.
Respiratory protection
Where risk assessment shows air-purifying respirators are appropriate use a full-face particle respirator type N100 (US) or type P3 (EN 143) respirator cartridges as a backup to engineering controls. If the respirator is the sole means of protection, use a full-face supplied air respirator. Use respirators and components tested and approved under appropriate government standards such as NIOSH (US) or CEN (EU)
Serious advice from Sigma Aldrich: face shield, safety glasses, nitrile gloves, overcoats, respirators even, which according to while his University of Wyoming their professor Kniss "instructs our students and pesticide applicator trainees" to wear when applying glyphosate. On top of the basic protection of socks, longs sleeves and shoes, which Kniss seemed to claim in public to be fully sufficient.
Because of assurances like these, glyphosate users in gardens, schools and farms donned none of the required PPE. They believed Monsanto and its academic shills who kept telling the public that glyphosate it was safe as salt, safe to drink even.
Soapy and salty
Like Kevin Folta, professor of at the department of horticultural sciences at the the University of Florida, and probably the most notorious of academic shills Monsanto ever had. Folta even (unsuccessfully) sued people for calling out his Monsanto shilling (which was uncovered by Michael Balter and by Paul Thacker). On top of that, Folta was even exposed as a fake gardener. Is his earlier claim credible that he actually drank glyphosate?
In 2015, Folta declared on Twitter, in a since deleted tweet:
"It is liquid, tastes soapy and salty, I've drank it before to demonstrate harmlessness."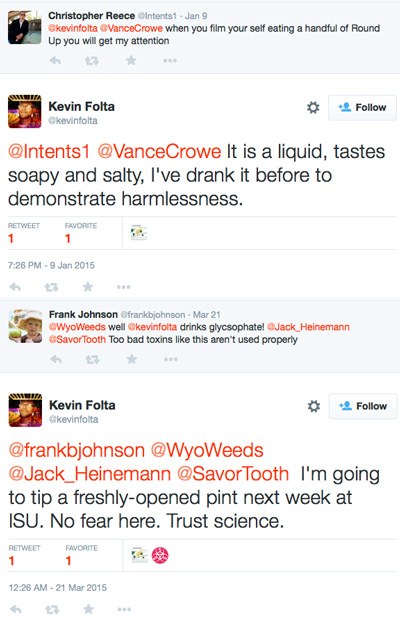 Folta then announced to "tip a freshly-opened pint" of glyphosate, adding: "Trust science." Later on he advised that it was still safe to drink, but in moderation, especially for people for cancer predisposition. Wait, so even Folta hints one could get cancer form glyphosate?
No, of course not. Remember: glyphosate is "Far less acutely toxic than salt".
So I asked Folta's University of Florida about any PPE they might use when applying glyphosate. Here, it took just 9 days, no official FOI was needed. The University of Florida communications person informed me:
"Thank you for your inquiry about PPE and pesticides. Your inquiry made it to our newsroom, and we're happy to provide some information. PPE that is required is as indicated on the label of whatever pesticide is being used. For example, the PPE required to use Roundup Pro is described on the attached label, and that is what would be used.
We also have an Extension publication on the matter; https://edis.ifas.ufl.edu/pi061, and here is the topic page that discusses PPE more broadly. https://edis.ifas.ufl.edu/topic_ppe."
There was this picture attached:
Here another picture from the link University of Florida sent to me:
This means, University of Florida uses same PPE for glyphosate as Wyoming: googles, face shield, nitrile gloves, apron, respirator etc. By the way, the Monsanto shill Folta once educated me that science PhD graduates questioning glyphosate safety must be failed mercilessly. Some peers agreed.
No conflict of interest
Strange man, Folta. He even once commented on my site, to defend a scientist who falsely claimed GMO crops would prevent suicides in India.
Stuart Smyth, "Industry Funded Research Chair" at the University of Saskatchewan, wrote in a "peer reviewed" paper (Smyth 2019) that "the reduced rate of suicide associated with the adoption of Bt cotton represents the prevention of a minimum of 75 000 farmer suicides". That was of course eagerly touted by Genetic Literacy Project. What Smyth did, was to draw his own conclusions from the Gruere & Sengupta 2011 study which, while being staunchly pro-GMO, found the exact opposite: "in specific districts and years, Bt cotton may have indirectly contributed to farmer indebtedness, leading to suicides", due to "other factors" and "institutional context". The paper sought to explain why Bt-cotton was not responsible for farmer suicides, and never postulated it reduced them. Smyth interpreted it as proof that suicides were reduced, who knows how he arrived there. He also declared "no conflict of interest" despite his academic salary being funded by Bayer CropScience Canada, CropLife Canada, Monsanto Canada, Syngenta Canada and others, the Plant Biotechnology Journal and the publisher Wiley didn't mind and never replied to my email.
Maybe the journal followed Folta's expertise on conflicts of interests. After all, the Monsanto shill Folta once sued New York Times for libel, claiming that the newspaper and its journalist ""manipulated an interview" to advance their own "anti-GMO agenda" by making him appear to be a "covertly paid operative of one of the largest and controversial companies in America, Monsanto."" This is what Folta said on my site about Smyth:
"The author is a scholar, a genuine deep thinker and excellent analytically. He is simply sharing science. While industry helps fund his position, they simply allow a scientist to discuss science. If there was evidence that industry funding directly influenced his words, or if he falsified evidence to fit an industry narrative, it would be a career ender. It is an important distinction to make. Just because you don't like the words does not mean they are corrupt."
Folta (his long-denied contract with Bayer below) seems to think that Smyth's misinterpretation of Gruere & Sengupta paper is "science", but the original work by Gruere & Sengupta is not "science", because Folta disagrees with its findings. This is the kind of science method professor Folta teaches his students at University of Florida. At least they are instructed to wear professional PPE when handling glyphosate, while Folta pretends to drink it.
Discrediting science
I also decided to check the situation of glyphosate safety in Germany. The Bundesinstitut für Risikobewertung (BfR, Federal Institute for Risk Assessment, subordinate to the German Ministry for Agriculture), which in 2015 declared glyphosate as perfectly safe based on Monsanto's own assessment they plagiarised, and whose director then declared every critic to be "discrediting science", undermining democracy and driven by an "agenda" (read here), initially did not reply to my email. Here is the plagiarism report:
To be fair, BfR was too busy to reply to me. They were namely suing the Open Knowledge Foundation Germany, again. The lawsuit, for which the state institution BfR willy-nilly wasted €100k of public funds, was aiming to assert copyright for that 2015 glyphosate report (yes, the one BfR plagiarised from Monsanto), achieve a court injunction against the foundation and its founder to have the report forever taken offline, and obtain a hefty compensation. Having lost in the first instance, BfR kept suing and now lost the appeal (they are likely to keep suing though, money is not an issue). Prior to that, BfR invested €80k of citizen's tax money to sue a public TV channel for its reporting on BfR's glyphosate plagiarism. Crazy thing: back then, BfR won, the TV channel had to delete everything, but here backup:
Eventually, the BfR press speaker did reply to my inquiry and declared my question "which PPE is being used at BfR when glyphosate is tested?" as "not clear and aiming at two different areas of law". He sent me some links to glyphosate safety assessments by the EU Commission and BfR's own guidelines on pesticide risk assessment and application safety, plus a federal instruction on how to write a safety data sheet.
But when I asked again which PPE is worn by BfR experts when handling glyphosate: silence. Even after I wondered if BfR maybe never tested glyphosate at all, but entirely relied on Monsanto reports which BfR then copy-pasted without quotation or reference: silence. Did I get it right then? After all, BfR previously proudly stated they were not legally bound to do their own lab tests anyway. The institute refused to tell me if they ever had glyphosate on their premises, for any purpose. Maybe they are preparing a lawsuit against me for asking that question?
Update 21.05.2021. BfR press speaker replied after I sent him this article. The full statement (in German) in here, in brief:
the only glyphosate studies they acknowledge to have performed themselves were:
One MSc thesis on glyphosate toxicity in vitro in 2016 (after the 2015 report was issued)
Collaborative study on glyphosate content in mother's milk, also in 2016
BfR declared to require this PPE for their glyphosate tests: Safety goggles, nitrile gloves and full face mask type P3/ respirator. Weird, given that glyphosate is deemed as perfectly safe? This data sheet was attached to the email, unlike BfR advising a "cotton" lab coat, the manufacturer Sigma Aldrich mandates a "chemical protective suit".
No special requirements if handled properly
I also contacted a university in southern Germany and the Max Planck Society, because their two respective plant science professors have been staunchly defending glyphosate as safe on Twitter, criticising the court verdicts against Monsanto as unjust. One professor previously claimed on Twitter that
glyphosate was "less cancerogenic than alcohol, nicotine, red meat or beverages over 65°C",
and "from purely scientific point, glyphosate safety is more evident than anthropogenic effect on global warming"
Same plant science professor, whose own research is utterly unrelated to crop science and herbicides, demanded from a critic to know "what are you by training to evaluate the dangers of glyphosate?". The other professor claimed on Twitter that
"According to WHO, glyphosate is as dangerous as beef (and less dangerous than alcohol)",
that glyphosate was "harmless" and Greenpeace and others "make a living fear mongering".
The university in southern Germany declared to be unaware of any glyphosate use on their premises, but reassured me that if someone were to use glyphosate, a PPE according to manufacturer's instructions will be worn. The Max Planck Society (MPG) stated: "We are currently not aware of any research with or on glyphosate in the MPG", which proved not entirely correct. Because the Max Planck Institute professor replied personally:
"In addition to the instructions of the trade association for the raw materials and chemical industry (BG RCI), we at the institute follow the manufacturers' safety recommendations; the safety data sheet for Roundup, which you can also find by searching the Internet, is attached. When spraying in closed rooms – as with other aerosols – we use a laboratory coat, laboratory gloves, protective goggles and an FFP2 mask. So far, we have not used glyphosate in field trials that would be used in agriculture. That's why we don't have any safety instructions for this, but we would use the safety data sheet as a guide."
Good, at least now the Max Planck Society is finally aware. This data sheet was attached:
The Monsanto Europe data sheet for RoundUp this Max Planck director sent me is from October 2014, I even asked him if he is sure his institute still adheres to its lax guidelines: no reply. The data sheet declares that no particular PPE is required, not even gloves (at least not for occasional use):
"8.3. Recommendations for personal protective equipment

8.3.1 Eye protection:

No special requirements if handled properly

8.3.2 Skin protection:

In the event of repeated or prolonged contact: Wear chemical-resistant gloves Chemical-resistant gloves are made of waterproof materials such as nitrile, butyl, neoprene, polyvinyl chloride ( PVC), natural rubber and / or barrier laminate.

8.3.3. Respiratory protection: No special requirements if handled properly
Which is really strange, because look at this more up-to-date RoundUp datasheet from 2019 (due to takeover issued by Bayer, not Monsanto anymore). It advises safety googles, nitrile gloves, standard overall and coat category 3 Type 6, and even a respirator to avoid "residual risk".
Other manufacturers wrote something else not just back then, like the above 2015 Sigma Aldrich data sheet (merely a year younger than that of Monsanto), but already in 2004, like this Caspar Berghoff KG data sheet here:
Respiratory protection: No special requirements if used properly.

Hand protection: Chemical-resistant protective gloves (EN374).

Eye protection: Tightly fitting protective goggles (goggles) (EN 166).

Body protection: protective suit, apron, protective shoes (according to Din-EN 346)
And this is why Monsanto lost in court. They lied to their customers about glyphosate safety, told them that no protective equipment was needed, all to keep the use and sales of RoundUp soaring high. It worked, Monsanto made astronomical amounts of cash by knowingly poisoning the public, while its executives and investors converted the scam into obscene personal wealth, especially after they sold Monsanto to Bayer. And now it will be the German public bailing out Bayer and paying the multi-billion dollar court bills, while execs like Bayer CEO Werner Baumann laugh all the way to the bank.
Meanwhile, Bayer lost one more appeal, so glyphosate will remain banned in Mexico, and yet another appeal in EU Supreme Court regarding three insecticides, which will remain partially banned in the EU because they harm bees.
Drink DDT
The pesticide debates go sometimes into direction of criminal insanity. I never thought I will see crop scientists defend DDT, probably the most toxic pesticide deployed in agriculture, even claim it was safe to drink, but here we are.
The tweet from Connor Ferguson (Twitter bio: "Jesus Christ is Lord. Husband and Father. Weed Science Faculty at Mississippi State University") and references a bizarre video from 2010 made by a certain Rutledge Taylor who drank (or probably just pretended to drink) DDT. The unhinged agro-industry shills of ACSH issued a statement:
"In his dissection of the rise of the environmental movement and the fall of science, Dr. Taylor not only educates us, but he also sparks outrage about the unforeseen consequences of a scientifically ignorant chemical witchhunt, one that has caused untold human suffering and billions of deaths, primarily among children."
These crooks want to see DDT sprayed again. The stuff annihilated over the decades of its global use entire ecosystems, killed all wildlife and gave many people cancer and all possible diseases, up until the 1962 book "Silent Spring" by Rachel Carson revealed the horrible devastation. Lawyers working for US nuclear industry used to argue with widespread DDT use as court evidence that it could not have been the radiation pollution alone which poisoned farmers in the Washington state.
ACSH are destructive sociopaths, who probably would have no qualms hailing radioactive waste as fertiliser, they are almost getting there while shilling for nuclear industry. Problem is, you will find many scientists citing ACSH and GLP as the champions of SCIENCE.
Now you know that these same scientists who tell you that glyphosate is perfectly safe, no particular protection is needed – they and their universities use professional PPE like nitrile gloves, overcoats, face shields and even respirators when applying glyphosate themselves.
---
If you are interested to support my work, you can leave here a small tip of $5. Or several of small tips, just increase the amount as you like (2x=€10; 5x=€25). I am shilling For Better Science, you see.