Smut Clyde is back, and he is taking a timeout from provoking the quackery-peddling totalitarian nationalists of the Chinese Communist party. Smut Clyde now wants to see what happens when he provokes the quackery-peddling Hindu fascists of Modi's soon-to-be totalitarian India. I'm interested, too.
Like religions in authoritarian states often do, Hinduism became weaponised by Naredra Modi's regime into a toxic and destructive fascist cult. It can kill directly, its common targets being women, Dalit and especially Muslims, but even the devout ones can end up dead, as victims of Ayurvedic medscam quackery, which is endorsed by the newly formed Ministry of AYUSH (Ayurveda, Yoga & Naturopathy, Unani, Siddha and Homoeopathy). Elisabeth Bik blogged about a case of lethal poisoning from herbal concoctions, which was uncovered by the Indian physician Abby Philips, and whose clinical case report was retracted by Elsevier because the lawyers of HerbaLife India demanded it.
The toxic contaminations (or even toxic basic ingredients) inside Indian herbal medicines are a serious and widespread problem which Modi's government is definitely not interested in regulating, quite the opposite. Another problem arises when seriously ill patients eschew proper medical care in favour of quackery, with Ayurvedic herbs or even with gomutra. And yet, the AYUSH ministry itself pushes cow urine and dung as medicine against COVID-19, cancer and all other diseases.
But Smut Clyde will not be talking about gomutra or panchgavya now (because he is secretly shilling for the Big Piss-Take), but about the per-reviewed Ayurvedic cures against COVID-19, dengue fever and heart diseases, and the celebrity yogic gurus who sell them.
No conflicts of interests are declared in each of the papers, incanted in fact like a Vedic prayer. Especially since these holy men manage to run a giant worldwide merchandise market of Ayurvedic quack medicine against everything, including and in particular against COVID-19, while declaring no conflict of interest whatsoever in every peer-reviewed paper they publish. Their "research" works appear predominantly in MDPI, which the publisher declared to be part of the push for "diversity".
To me, it makes perfect sense and I send my two-fingered salute to MDPI. How else to accompany a string of openly racist papers in one MDPI journal, all targeted against Black people and Muslims, but with a string of Hindu-fascism promoting papers in another MDPI journal? After all, preaching Hindu nationalism with its fascist guru cults, oppressive caste system, violent misogyny and of course deadly pogroms against Muslims, as these holy men and their supreme leader Modi do, is what "diversity" is all about, right?
MDPI's academic editors, all professors at US and European universities, don't mind any of that. I don't know how much an MDPI editor-in-chief is paid, but this is how cheaply conscience can be bought.
---
Balkrishna medicinal merchandise, pukefunneled into mockademic journals
By Smut Clyde
At their pinnacle, Hindu spirituality and philosophy are about weakening the habitual cognitive error known as "ego" by starving it of attention, so that we can experience things in the world as they are rather than treating them as a series of mirrors reflecting oneself. Some gurus take a roundabout path towards this goal of abnegation, by way of self-glorification, perhaps in the hope that if one inflates one's ego enough it will explode with a dull "pop" like the frog in the fable. I am thinking in particular of Indian yoga- and snake-oil-purveyors Swami Ramdev and Acharya Balkrishna. Attend to the autohagiographies that adorn the Patanjali Research Institute!
"For his divine and excellence services to the welfare of mankind, [H.H. SWAMI RAMDEV JI] was felicitated by the Prime Minister of Indian Mr. Narendra Modi Ji as a National Icon, Tarun Kranti. He received several prestigious awards namely Padma Vibhushan, Surya Ratna and Mahaveer Award. Swami Ji has been conferred with recognized honors. Among, the few are: Surya Ratna, Mahveer Award from United Kingdom, Chandrashearendra Saraswati National Eminence Award, Mahamahopadhyaya globoil India Award. Swami ji is honored from British House of Commons, Legislature of state of New Jersey, USA, ASSOCHEM's 5th Global Knowledge Millennium Summit, Brand Ambassador of Yoga by Government of Haryana. Swami Ji is honored and celebrated 30 June 2007 as Swami Ramdev Day by Nassau County.
Swami Ji was as "Most Creative Business People of 2016", and "5th India's 50 Most Powerful People" by American Business Magazine and India Today Magazine respectively. Kalinga Institute of Industrial Technology, Bhubaneswar has conferred him a "Honorary Doctorate". Swami Ji was considered for Padma Vibushan, as second highest civilian award but, day before 66th Republic Day, humbly refrained from taking it by putting the fact he is an ascetic.
Swami ji aimed to propagate Yoga and Ayurveda, reform India on the social, political and economic level and henceforth took all onerous responsibility of demystifying and popularizing Patanjali Yoga on himself. Swami ji aimed to implement yoga as a daily practice and life style to every human being.
His teachings of yoga include eight Prāṇāyāmas, some Ukma (light) Vyāyāmas; and some specific Āsanas combined with Āyurvedic medicines for various ailments. The yogic teachings of Swami Ji are broadcast on various Indian TV channels, like AASTHA, ZEETV, STAR, SAHARA etc. …"
If you can read these without thinking "Did you ever in your puff see such a perfect perisher?" then you need to read more P.G. Wodehouse.
"[H.H. ACHARYA BALKRISHNA JI] is one of the renowned & pioneer in the field of Ayurvedic Science and a source of inspiration for Traditional Medicinal Practitioners and working for the spectrum of indigenous medicine identification, authentication and establishment at national & international level.*
With the vison of universal health for over last two decades, he effectively cured more than 1.5 million patients with a number of stubborn, chronic and non-communicable diseases. Presently more than 1500 traditional doctors are providing free primary healthcare service to more than 7 million of patients per year and 1 million volunteer are providing free Yoga to 50 Million person daily.
To reveal new ways to solve key health problems, fill gaps in knowledge & strengthening of health system he is guiding research works to create and improve preventive, diagnostic, and therapeutic interventions of diseases through Indigenous Medicine System i.e. Yoga & Ayurveda and digital health.
He authored more than 100 books, 100 Research Articles, 41 Patents Rights and edited more than 18 unpublished ancient Manuscripts. One of the scripture 'Aushadh Darshan' has been sold more than 10 million copies and in addition, 'The Science of Ayurveda' has been published in 71 languages across globe.
Strengthening traditional medicine system of the world with the multivolume 'World Herbal Encyclopedia' that contains description of 60,000 medicinal plant species with world largest collection of medical plants paintings. […]"
The Patanjali Research Institute (PRI) seems to be a subsidiary of the Patanjali Research Foundation Trust, all part of a sprawling Patanjali-themed business empire, with the Patanjali Yogpeeth, Divya Yog Mandir, Patanjali Ayurved Limited manufactory, a University of Patanjali, and innumerable other commercial entities.* All founded by Ramdev and Balkrishna, and all selling two product ranges to the Indian diaspora through "Divya Pharmacy" Patanjali-themed pharmacy webstores: (1) ersatz Guru-blessings, and (2) mendacious Alt-Med concoctions — both with an Indian Nationalist brand.
What brings this into the ambit of Riddled and For Better Science are the paper-shaped advertisements for Balkrishna medicinal merchandise, pukefunneled into mockademic journals.
The on-line pharmacies have any number of Ramdev / Balkrishna products, treating various ill-defined diagnostic categories, and generally consisting of calcium oxide i.e. quicklime (or sometimes mercury) with various blends of a limited palette of herbs. Like quantum-theoretical particle-waves, they all display a dual nature, being at the one time both time-honoured Ayurvedic traditions, and proprietary creations of Swami Ramdev, made only at Patanjali Ayurved Ltd. and sold only through Divya Pharmacy, accept no imitation.
In a belated quest for academic acceptance, they all need research-shaped performances to justify (retrospectively) Ramdev's insights, so there are many of these papers, taking full advantage of the new marketing channel created by advances in academic publishing.
This illustrates in passing an important point about pay-to-print 'predatory publishing' in the research world. Predatory or parasitical publishers are often presented as taking advantage of the naivete of innocent authors. In many cases, the authors know exactly what they're buying with their Article Processing Charges: a veneer of academic approval for lies that further the authors' political or commercial agenda. In the case of Balkrishna, it is also an opportunity to take first authorship on each of the opuscules churned out by his minions at the PRI.
The Balkrishna oeuvre is notable for a non-standard interpretation of the concept of "conflict of interest", with Balkrishna claiming to gain no personal advantage from the positive results he fabricates for his merchandise. His employees / co-authors share this admirable disinterest.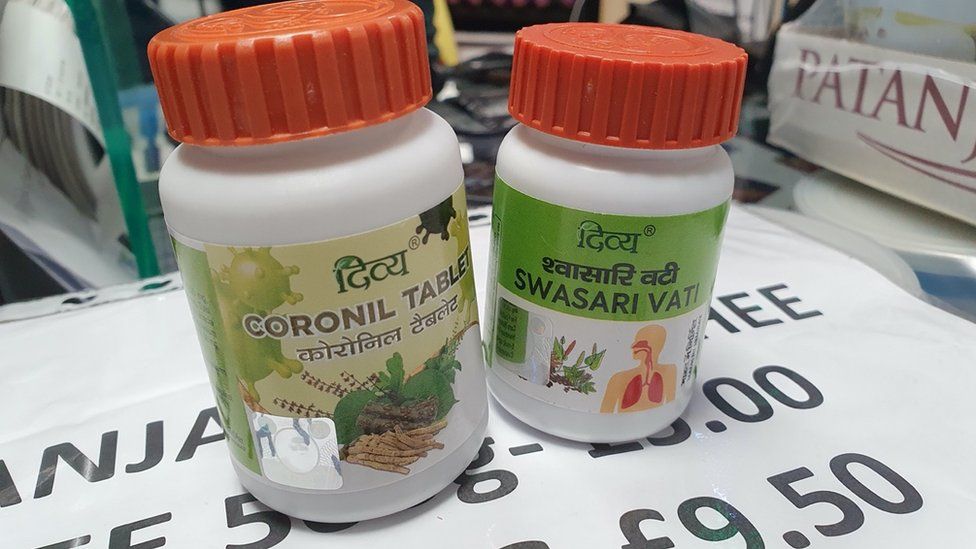 Every crisis is an opportunity, the adage has it, and the SARS-CoV-2 pandemic is no exception, opening up whole new markets to medscammers and their overpriced placebos. The Ramdev / Balkrishna way of capitalising on it was to combine quicklime with Withania somnifera, Tinospora cordifolia and Ocimum sanctum, and call it Coronil… followed by the more arduous process of retconning a rationale and working out the chemical contents.***
One supporting paper purports to show improved swimbladder performance in Covid-infected zebrafish ("Application of Humanized Zebrafish Model in the Suppression of SARS-CoV-2 Spike Protein Induced Pathology by Tri-Herbal Medicine Coronil via Cytokine Modulation"). OK, not really an infection, but a injection of SARS-CoV-2 spike proteins; not affecting the fish directly, but rather, affecting the human-derived A549 cancer cells hosted in their swimbladders. The rationale was that the proteins would challenge the A549 cells in exactly the way that a COVID-19 infection challenges respiratory epithelial cells in an infected host, causing the fishes' immune systems to respond in the same way as a human immune system, with a cytokine storm; and absence of such a storm would prove the efficacy of the herbal concoction.
The approach is adopted, somewhat loosely, from lung-cancer research, where the search is for treatments that kill the A549 cells. Its validity could be questioned, but there is no doubting the value of the study for Patanjali Ayurved Ltd and Divya Pharmacy, who lost no time in applying it to its intended marketing purposes, as BBC reported:
"The company continues to insist its product works against Covid-19.
"It has treated and cured people," Acharya Balkrishna, managing director of Patanjali told the BBC.
It referred us to scientific trials, the results of which it says have been published in several peer-reviewed journals.
It pointed specifically to a study from November 2020 in a journal published by the Swiss-based MDPI, which was based on a laboratory trial."
Concurrently with the Coronil validation, the company was preparing a very similar paper, "Calcio-Herbal Medicine Divya-Swasari-Vati Ameliorates SARS-CoV-2 Spike Protein-Induced Pathological Features and Inflammation in Humanized Zebrafish Model by Moderating IL-6 and TNF-α Cytokines". Here the cytokine storms in the zebrafish / A549-cell chimeras were forestalled by a different Patanjali Product, involving a different herbal mixture (plus quicklime). One could easily wonder if there are any ayurveda-inspired products which don't cure COVID-19. In fairness, I note that this second paper departed from the first in using "behavioural fever" as well as swimbladder function to quantify the piscine health (assessed by the fishes' preference for a warmer environment).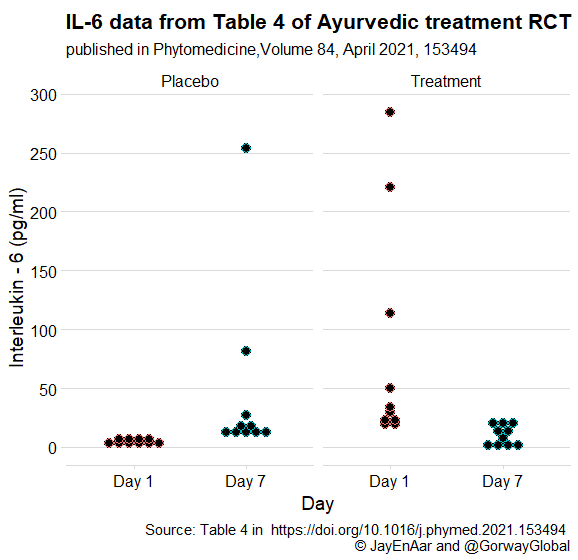 A third bolus of bullshit was tendentious, disingenuous fiddle-faddle, harnessing lead-time bias to deliver the intended result — packing the Treatment group with earlier-infected cases who were already progressing towards full recovery, while lying about "randomly assigning" and "RCT".
"Randomized placebo-controlled pilot clinical trial on the efficacy of ayurvedic treatment regime on COVID-19 positive patients" was published in Phytomedicine : International Journal of Phytotherapy and Phytopharmacology: a naturopath-friendly journal from Elsevier, often encountered in lists of papermill outputs.
It stands out from the rest of the oeuvre because Edzard Ernst gave it stick for lack of scientific rigor. Of course Prof. Ernst criticises a lot of junk. In this case he was banned from FaceBorg for spreading COVID-19 disinformation (!), after (I surmise) Balkrishna sent flying monkeys to denounce him.
No-one expected FaceBorg to take the side of the scammer! Meanwhile the paper served its purpose, as per BBC:
A human trial was conducted between May and June last year, on 95 patients who had tested positive for coronavirus.
Of these, 45 received the treatment and 50 were part of a placebo group (who didn't receive anything).
The Patanjali company pointed out the results have appeared in a peer-reviewed journal called Science Direct in its April 2021 edition.
There is a political side to all this. Balkrishna and Ramdev made themselves flag-bearers in a broader campaign to monetarise Ayruvedic quackery by tying it to the Hindutva movement of religious / cultural chauvinism, or Brahminic supremacy if you like. They backed the winning side in the Indian race to dictatorship. So the Minister of Health has joined Team Coronil (not just the Minister for Medfraud), keen to install Coronil as the standard treatment for COVID-19 and volunteering the public as guineapigs for large-scale trials. To be fair, I note that State governments are generally less theocratic, and therefore more concerned for the health of their constituents, and are not so enthusiastic.
I don't know if there is anything comparable elsewhere. The US has a noble tradition of religious frauding, piggybacking on a movement of Bible-weaponising white supremacy. It has an equally long tradition of snake-oil and Alt-Med chicanery. Mountebanks and supplement pimps like Joseph Mercola would like to combine the two, running 'christian-spirituality / prosperity-gospel' grifts in conjunction with 'christian-herbalist alt-med cures' as the two sides of a single immersive money-extracting environment. But the fact remains that traditional European medicine was all mistletoe, leeches, cobweb pills, poultices and swallowing live mice, if you go back to the Dark Ages, or trichobezoars and antimony and ground-up emeralds if you prefer the Renaissance quacksalver version. So it's not easy to present multilevel-marketed pill-popping as an intrinsic part of White Identity, in the way that Ayurveda is part of Hindutva, despite the medscammers' best efforts to align themselves with the American Taliban.
That aside, nine Balkrishna brainfarts have been flagged so far in PubPeer threads. Dozens more could be arraigned, of course, just for his specious denial of any Conflicts-of-Interest. Four featured in Special Issues of Biomolecules, a MDPI journal, which appears to be especially welcoming. The MDPI policy of encouraging video abstracts as well as the old-media written ones probably helps (the publisher is targeting a readership who need moving pictures to capture their attention). So please enjoy the spectacle of a recitation about Withania somnifera… in Sanskrit.
Now Sanskrit is a lovely language, but considering the percentage of the population who understand it (even in India), its use in this context is more a statement of fealty to the Modi gubblement and its Brahmin-supremacist philosophy than an attempt to communicate to a wider audience — like delivering an Abstract in Latin to affiliate one's research with the Vatican. Indian media saw the triumphant gesture, even if the MDPI publishing director preferred to think that it was "diversity".
"Diversity and sustainability are very important to us, so we are very pleased to have published a video abstract in Sanskrit," he added.
As always, in the paper (which is in English and not in Sanskrit) "The authors declare no conflict of interest". But the "free, fair, non-hyphenated and questioning journalism" article mentions:
""We will definitely monetise the findings. We will be using the findings to launch our own products under the cosmetics and medicine category," Acharya told ThePrint."
Narrator: Balkrishna had already launched his own product long before the study.
In a covert correction, the original Video Abstract seems to have vanished from another Biomolecules paper ("Validation of a Novel Zebrafish Model of Dengue Virus (DENV-3) Pathology Using the Pentaherbal Medicine Denguenil Vati"). The loss is regrettable, as by all accounts it was a choral performance. Complete with conspicuous product placement for the Pentalherbal Medicine Denguenil Vati, available only through the first author's Divya Pharmacy.
"Denguenil Vati is a pentaherbal Indian traditional formulation recent product of Swami Ramdev's well-remunerated intuition that has been prescribed by ayurvedic practitioners charlatans for the treatment of dengue infection in India."
The scientific breakthrough here is not so that Balkrishna and his acolytes had cured zebrafish of a Dengue Fever infection, but their success in infecting them with the virus in the first place, contrary to a century of failures by other virologists to find a non-primate host. They buried the lede there.
* It comes as no surprise that Balkrishna has fluffers on staff to curate the contents of his Whackyweedia entry and ensure that the tongue-bath is the right temperature. The entry does not mention the tax-evasion concerns or the questions of bogus citizenship and bogus degrees, so one must search elsewhere for that background information.
** "It is very difficult to be sure about the number of associated companies – Ramdev's key aides, Balkrishna and Mukta Nand are shown as Directors/Managing Directors/Additional Directors for at least 45 separate companies, however there are likely to be many more companies affiliated to the Ramdev organization. Some of the most significant affiliates are Aashta TV, Divya Pharmacy, Patanjali Ayurved Limited and the Brahmakalpa Chikitsalaya (hospital).27″
*** The methodology makes as much sense as a previous application of the same versatile and potent three-herb combination, to cancer patients, as a chemoprotective adjunct to chemotherapy. (though no sign of the calcium oxide). But wait, here's another group of researchers, jumping on the juggernaut bandwagon to promote the three-herb combination for COVID-19, with a molecular-docking unstudy.
---
If you are interested to support my work, you can leave here a small tip of $5. Or several of small tips, just increase the amount as you like (2x=€10; 5x=€25). I am stocking up on Coronil, just in case.