Schneider Shorts of 18 February 2022 – fraudster psychologist rehabilitated in Dresden, American dark money conspiracy behind oleandrin, tech billionaire Musk pays to torture monkeys, faecal horoscopes in MDPI, how to join a citation ring, another coffee, and how Putin hides from germs in a pandemic bubble.
---
Table of Discontent
Russia
Science Elites
Science Breakthroughs
---
Russia
Putin afraid of germs
The world is focussed on Russia and its beloved dictator Vladimir Putin, who will be 70 this year, so he decided to give himself a birthday present by restoring the Russian Empire in the borders and methods of the 19th century. Right now, he still is undecided whether to have a full-out war or to continue sulking.
This is, Putin has always lived in a bubble. Until the pandemic, it was an information bubble, where he only was told what he wanted to hear and only by people he wanted to listen to. But now the bubble became a real one. Putin is scared to death of COVID-19. By his own announcement, the Russian president is fully vaccinated with Sputnik V and boosted with Sputnik Light, but either he doesn't trust the national pride vaccine (wisely so!), or, more likely, Putin is actually unvaccinated, being afraid of vaccines in general.
Putin doesn't even trust PCR tests. You all saw the enormous table and the distance France's and Germany's leaders Emmanuel Macron and Olaf Scholz had to keep. Not just foreign visitors: Putin doesn't even let his most loyal people to come next to him. Here he is meeting his trusted foreign minister Sergei Lavrov just recently: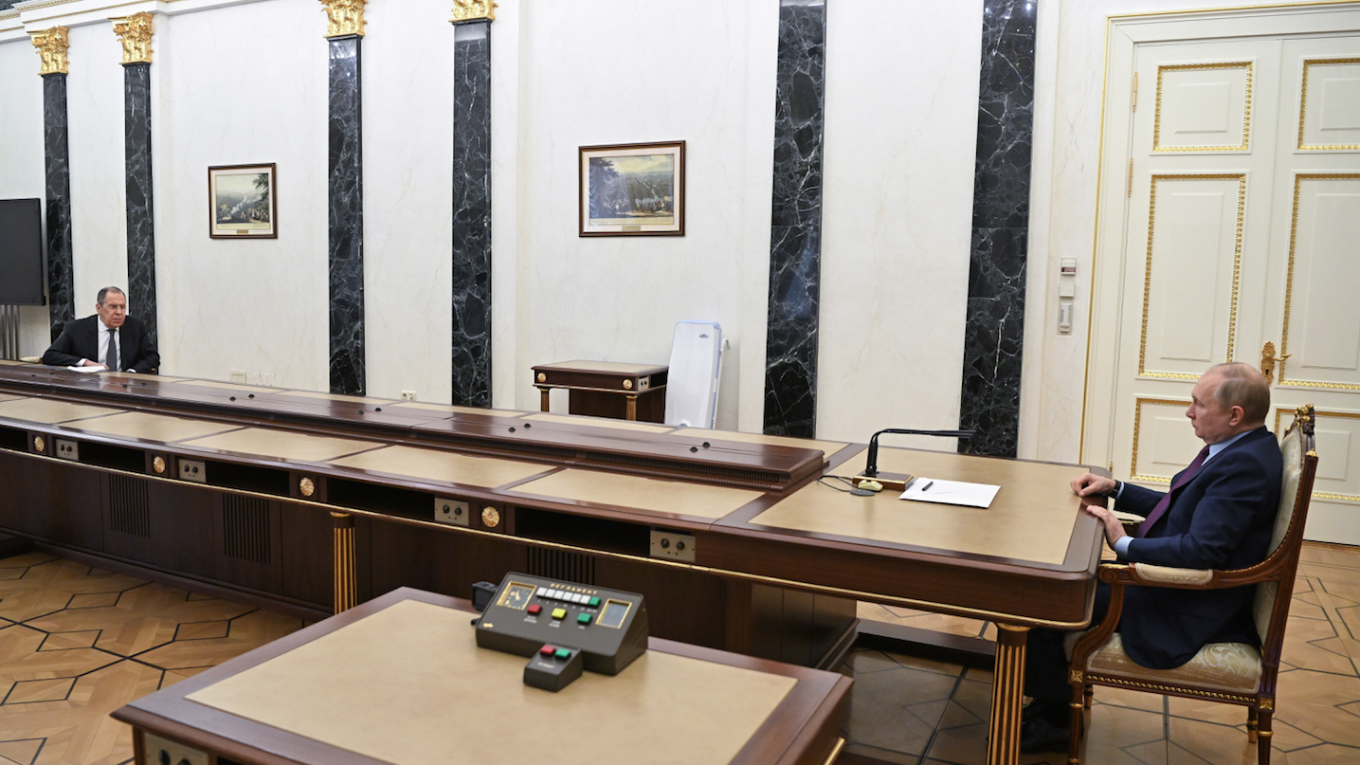 To get near Putin, you must spend two weeks in isolation first. And supply a stool sample. Seriously. Russian opposition news channel Baza found out:
"The life of Russian officials close to the president has been made much more difficult. Now they have to donate faeces several times a week. It's all about, we hope, increased security measures.

We all heard about the extreme vigilance of the entire environment of the President of Russia towards his health. However, the concern for the body of the first person has reached a new level – if earlier employees who were to meet with Vladimir Putin had to spend a two-week quarantine (which in itself is very difficult, but more on that later), now they also take several stool tests once a week. Information about such a change to "Base" was confirmed by several informed sources.

As for the isolation itself, which should last two weeks: many employees are forced to spend almost the entire year in quarantine. As it became known to "Baza", among the employees of the Presidential Administration and the FSO [Federal Protective Service, -LS] there are people who "served" more than 150 days last year – in solitary confinement. Because of this, many employees even began to have problems in their families – not every life partner is ready to accept the almost constant absence of the second half from home.

What does Kremlin-style isolation look like?

You are in a solitary room all the time. Under no circumstances should you bring alcohol, coffee, cigarettes and knives with you. Food is brought several times a day and placed on a special table near the door to the room. It is strictly forbidden to go outside, receiving parcels is also prohibited. And if there is any violation, the isolation will immediately stop and the violator will not be allowed to the event."
Putin is paranoid and mad. The Insider lists some of COVID-19 measures. Two "hermetically-sealed" residences, one in Moscow, one at the Black Sea:
"A strict system for ensuring sanitary and epidemiological control around Putin was built back in March 2020, when the pandemic was just gaining momentum. The president spent most of his time in quarantine at a residence near Moscow in Novo-Ogaryovo. According to a BBC source, in the so-called "clean zone" in the residence, there was also the entire inner circle of the president: security, adjutants, several protocol officers and even a personal operator. They worked different shifts and could not go home. […]

For a long time, Putin participated in events remotely, sitting in his office in Novo-Ogaryovo. At the same time, as Proyekt later found out, in order to hide the true location of the president, they built exactly the same office in the Sochi residence Bocharov Ruchei.[…]

Not far from the Sochi residence there is one of the sanatoriums, in which those who were supposed to personally meet with Putin were placed. Everyone who was preparing for a meeting with the president was under the control of a special medical detachment of the FSO for two weeks. […] In June 2020, it also became known that a disinfection tunnel was installed in the presidential residence near Moscow.
There are no limits to paranoia:
""On the 78th anniversary of the lifting of the siege of Leningrad – January 27 of this year – people were not allowed into the Piskarevsky memorial cemetery, since Putin was supposed to come there."
Apparently, in the cemetery even the snow was sprayed with disinfectant just before Putin's visit. The Insider also mentions:
"Finally, the presentation of state awards by the president was scheduled for early February, and everyone who was supposed to receive an award from Putin's hands was traditionally placed in a two-week quarantine, which was monitored by FSO officers. Due to quarantine, the chairman of the board of Gazprom, Alexei Miller, who was supposed to receive the Hero of Labour star, was forced to postpone the celebration of his 60th birthday and spend his birthday alone."
Miller didn't enjoy the quarantine, look at his face when he was let out:
But look how Putin met a fellow antivaxxer Jair Bolsonaro right after he kept Macron and Scholz at 4 meter distance:
Imagine what Bolsonaro had to go through to get close to his idol.
---
Science Elites
Bad choices in Dresden
Leiden University's newspaper Mare reports:
"It is October 2019 when Lorenza Colzato is appointed as a researcher at the Faculty of Medicine at the TU Dresden. Less than two months later, Leiden University, her previous employer, published a report from the Scientific Integrity Committee (CWI) stating that she had tampered with data and grant applications, had illegally drawn blood, invented experiments and made test subjects disappear. Two articles are retracted.

That investigation had no consequences for her appointment. And even after the follow-up investigation, which shows that Colzato has committed fraud in at least another fifteen articles, the TU Dresden is not taking any action against her. 'Because the findings of the inquiry committee relate to the period that Colzato worked at Leiden University, that is where the responsibility lies,' says Anne Vetter, university spokesperson for TU Dresden. Moreover, it is not a court decision. Our legal department states that we cannot take any action based on the investigation.'"
The Technische Universität (TU) Dresden has a point: it is impossible to sack a German professor for research misconduct, even if committed at the same university. The perpetrator will sue and win in court hands down. But maybe TU Dresden shouldn't have recruited the cheater in the first place? The university spokesperson admits Colzato was knowingly recruited despite the impending misconduct findings:
""When she was hired, Colzato informed the university that she had been accused of scientific misconduct and that she may be under investigation. But at that time it was not yet known that the investigation had already started.'

However, that is not correct. The investigation had already started in the spring of 2019 and the first hearings were in May and June that year.

'Since Colzato has been working at the TU Dresden, no evidence has been found for scientific misconduct,' says Vetter."
It seems TU Dresden employed Colzato exactly because of fraud findings in Leiden, given the poor persecuted colleague urgently needed a new job. And the Ruhr University Bochum (also in Germany), where Colzato was last listed as professor, was not interested in keeping her. Bochum after all was much under criticism for having previously appointed as professor another psychologist, Jens Förster, despite his own research fraud findings, also in the Netherlands. Eventually, Förster left the Bochum University, and so did Colzato. Her adjunct professorship was officially revoked in May 2021.
Here is a paywalled German article on the TU Dresden affair where Colzato is however not named. That's due to the German libel law, where academic fraudsters and abusers are entitled to nearly unconditional protection of their privacy, while their future victims must remain in the dark.
---
Billionaire torturing monkeys
Wolrd's richest man Elon Musk is experimenting with brain implants on monkeys. The Daily Beast reports:
"An animal rights advocacy group is urging the U.S. government to cite Elon Musk's brain technology startup, Neuralink, and the University of California-Davis, over allegations that the organizations may have committed "egregious violations of the Animal Welfare Act" while testing brain-implant devices on macaque monkeys. […]

The startup, which appears to be moving closer to human trials, was co-founded by Musk in 2016. Its initial goal is to help alleviate disabilities like paralysis, though the billionaire has previously signaled ambitions of helping humans develop "symbiosis" with artificial intelligence—a vision that has some experts concerned."
There is a reason why experiments with brain implants are done on primates. The animals, their skull caps drilled or even sawed-off to be replaced with electrodes penetrating the brain, need to be "trained" to "voluntarily" perform certain complex cognitive tasks while strapped to a chair, immobile for hours. So these monkeys, kept in small solitary cages, are deprived of food and water until they "agree" to participating in those gruelling experiments in exchange of a grape or two. Basically, you need an animal of extremely high intelligence which will understand a) the daunting perspective of death by dehydration and b) what the animal has to "voluntarily" comply with if it wishes to survive. Yet as a final reward, the macaques are usually killed, not necessarily because their brains need to be studied, but rather because the physical damage caused to their bodies by the experiment is too difficult to fix.
Germany had a similar scandal, with Max Planck Institute director Nikos Logothetis, I once commented about it (in German). Scientists all sided with him.
It is not immediately clear if human patients will ever profit from such experiments, too often it sounds like scientific curiosity, most certainly in Musk's case, which is about a crazy sci-fi vision apparently inspired by Hollywood movies like The Matrix and RoboCop. The Tübingen experiments stopped, but in US money ($800k to UC Davis in 2017 alone) buys everything:
"In a draft of the complaint it plans to file with the USDA, the activist group asserts that—based on more than 600 pages of university documents it obtained through legal action—at least 23 macaques were used in research at U.C. Davis in the "Neuralink-funded project," and that "​​many, if not all, of the monkeys experienced extreme suffering as a result of inadequate animal care and the highly invasive experimental head implants."

Some of the animals, the group claims, received as many as 10 craniotomies, were strapped into chairs for up to five hours per day, or "underwent terminal (fatal) procedures."

At least one monkey was euthanized after "the area around the monkey's head implant became infected," the complaint alleged. Another macaque's health also allegedly deteriorated after it received an implant. After it too was euthanized, a necropsy found signs of "brain hemorrhage" and "acute esophageal ulcers… likely due to vomiting.""
In reality, the monkey experiments are even more cruel than this.
---
Science Breakthroughs
Oleandrin Conspiracy
The Daily Beast has an investigation how Donald Trump came to tout oleandrin as COVID-19 cure in 2020. Oleandrin is my favourite COVID-19 quack medicine, because it is so efficiently deadly.
"It's not just one person dabbling in COVID quackery with tragic results; it's actually a mysterious dark money organization, with ties to influential MAGA figures like Steve Bannon and MyPillow CEO Mike Lindell.

This story, which unfolded nearly 18 months ago, would have likely gone untold if it weren't for one person: Kenneth Happel.

Happel claims to have partnered with the group, Propter Strategies, in its secretive work. But eventually, he became another victim of it. […]

Happel, as it turns out, currently lies in a Las Vegas hospital bed fending off his second COVID infection. Less than two weeks ago, the disease took his wife's life.

But in a phone interview from his hospital bed, Happel, 72, remained unrepentant and defiant about the numerous baseless theories that quite likely landed him back in the hospital, and killed the wife he loved dearly."
Propter Stategies received $5 Million through dark channels to push oleandrin and is connected to the fascist ideologist Steve Bannon, who as Daily Beast mentions "of course, was also an oleandrin enthusiast". The company's board member Andrew Whitney also used to be Vice Chairman and Director of the Texan biotech Phoenix Biotechnologies, which main business is to sell oleandrin (as I also once reported). Now Whitney is gone, but the MyPillow CEO and born-again Christian Lindell remains listed as board member of Phoenix.
Daily Beast continues:
"And so, smack in the middle of that deadly second-wave summer, Whitney and Lindell paired up for a MAGA media parade, stumping for oleandrin as a neglected medical miracle on fringe conservative platforms from Newsmax to Diamond and Silk's show on YouTube.

Then, according to multiple outlets, the two businessmen struck gold. They landed an Oval Office meeting with Trump, thanks to Lindell's relationship with the since-vanquished commander-in-chief. Also in attendance at that meeting was then-Housing and Urban Development Secretary Ben Carson, who went so far as to use oleandrin to treat his own COVID-19 that fall. (Carson claimed it cured him, despite its lack of official approvals or clinical evidence of efficacy against coronavirus infections in humans.)"
Then other MAGA figures joined the affray:
"While Whitney and Lindell pushed oleandrin—and specifically, Phoenix Biotechnology's products—on the president, another Propter official was boosting the treatment on a parallel track.

In multiple video and written screeds in August 2020, the official, noted Islamophobic activist Frank Gaffney, excoriated supposed "Deep State" actors for engaging in "perfidious bureaucratic sandbagging" of oleandrin.

In one article, Gaffney—a former adviser to Sen. Ted Cruz (R-TX), a Bannon ally, and an influential confidant of Ginni Thomas, the wife of Supreme Court justice Clarence Thomas—also name-dropped Phoenix, when discussing the commercial treatment Serrativir. In another piece he quoted Whitney, who had complained to him of "cure-canceling.""
Propter was dissolved soon after the Daily Beast journalists revealed its existence in November 2021. Phoenix is still in business, and Lindell is still taking oleandrin, or so he says.
---
Faecal Horoscope
I think we have a hot candidate for the stupidest gut microbiome paper, and it's in MDPI:
Ali Boolani , Karyn M. Gallivan , Kristin S. Ondrak , Courtney J. Christopher , Hector F. Castro , Shawn R. Campagna , Christopher M. Taylor , Meng Luo , Scot E. Dowd , Matthew Lee Smith , Lauri O. Byerley, Trait Energy and Fatigue May Be Connected to Gut Bacteria among Young Physically Active Adults: An Exploratory Study, Nutrients (2022). DOI: 10.3390/nu14030466
The authors are all in US, led by a Clarkson University weirdo Ali Boolani who seems to be into something like faecal clairvoyance. Here his university's press release:
"The preliminary findings, published in the journal Nutrients, found that there are distinct bacteria and metabolomes that are associated with each personality trait. One bacterium was associated with three of the four personality traits, but none between all four traits.

The results support Boolani's previous work that reports that mental energy, mental fatigue, physical energy and physical fatigue are four distinct biological moods, but there may be some overlap—for example, you can be both physically fatigued and physically energetic at the same time.

The study also shows that bacteria and metabolome associated with metabolism were associated with either mental or physical energy, while bacteria associated with inflammation were associated with mental or physical fatigue.

"These new findings support my previous work where we report that feelings of energy are associated with metabolic processes, while feelings of fatigue are associated with inflammatory processes," says Boolani."
Basically, Boolani can tell all about your personality, predict your academic success and chart out your fitness exercise plan by looking at your stool.
---
Anti-Cholesterol Coffee
For those in the back row still unsure that coffee extends live and cures all diseases, here a press release by McMaster University in Canada:
"Scientists have a new understanding of the protective effects of caffeine on the cardiovascular system. While its stimulant effects have long been characterized, a team of Canadian researchers have discovered how caffeine interacts with key cellular factors to remove cholesterol from the bloodstream.

On average, the habitual caffeine-consuming adult ingests 400 to 600 mg of caffeine daily—about two to three cups of coffee per day. Some recent population-level studies have shown that coffee and tea drinkers having that amount of caffeine have a reduced risk of death from cardiovascular disease, but a biochemical explanation of this phenomenon has long eluded researchers, until now.

In a landmark study, researchers have discovered that caffeine is responsible for triggering a cascade effect that ultimately reduces LDL cholesterol in the blood—the so-called "bad" cholesterol. High levels of LDL cholesterol are associated with increased risk of cardiovascular disease."
This is the paper:
Paul F. Lebeau, Jae Hyun Byun, Khrystyna Platko, Paul Saliba, Matthew Sguazzin, Melissa E. MacDonald, Guillaume Paré, Gregory R. Steinberg, Luke J. Janssen, Suleiman A. Igdoura, Mark A. Tarnopolsky, S. R. Wayne Chen, Nabil G. Seidah, Jakob Magolan, Richard C. Austin, Caffeine blocks SREBP2-induced hepatic PCSK9 expression to enhance LDLR-mediated cholesterol clearance, Nature Communications (2022). DOI: 10.1038/s41467-022-28240-9
The authors have heavy pharma business engagements and have patented their discovery as ""Compounds for Reducing Cholesterol and Treating Liver and Kidney Disease" (18-069_USProv) that relates to the development of caffeine and methylxanthine derivatives to lower cholesterol."
Soon you will be able to buy their extra-strength coffee:
"We are excited to be pursuing this new class of medicines—or nutraceuticals—for the potential treatment and prevention of cardiovascular disease," said Magolan, an associate professor of biochemistry and biomedical sciences at McMaster.

Researchers are also exploring additional health benefits of caffeine and its derivatives beyond those observed in the present study.

"It is exciting to see yet another potential clinical benefit from caffeine," said study co-author Mark Tarnopolsky, a McMaster professor of medicine who has previously shown that caffeine improved neuromuscular function."
---
News in Tweets
Ethics of Elsevier again:
Retractions are a readout how many friends a fraudster has lost.
How to run a citation scam, explained on PubPeer: "when you have a manuscript, you shall tell the agent about the title and the keywords, the agent would then tell you to cite some papers in the pool, and this is what you see here, these papers are not related to the topic but belong to a more broad topic like "materials science" "catalyst" etc, […] after you have done this, in the future, your own paper would be cited by the other groups of authors in their papers. Since your papers are in the pool, the agent would request other groups in the pool to cite them as an exchange."
Nick Brown comments on Matta et al JAMA Int Med 2021: "The authors—and, even more so, the media outlets that covered the story—used the fact that people who "believed" that they had had Covid were more likely to report LC symptoms than those with positive serology tests, to insinuate that people with LC never actually had Covid. But […] 2/3 of people who "believed" that they had had Covid—and who allegedly "never had Covid"—had actually had a positive PCR or antigen test, or a diagnosis of Covid from a doctor. Hardly a questionable "belief""
---
Contact Form
I thank all my donors for supporting my journalism. You can be one of them!
Make a one-time donation:
I thank all my donors for supporting my journalism. You can be one of them!
Make a monthly donation:
Choose an amount
Or enter a custom amount
€
---
Your contribution is appreciated.
Your contribution is appreciated.
Donate
Donate monthly