This Schneider Shorts of 5 May 2021 is about retractions and resignations, geniuses saving the world from COVID-19, anti-aging scams and Didier Raoult's legal attack on Elisabeth Bik.
Table of discontent
Updates on For Better Science
COVID-19
Healthy living
---
Updates on For Better Science
Webster out
My first ever post on the topic of COVID-19 was about the US nanofabricator Thomas Webster, who proposed to treat the coronavirus infection with nanoparticles. The attention this created prompted experts like Cheshire to screen Webster's papers, many published in his own Dovepress journal (which now has a new editor-in-chief). The PubPeer count is currently at almost 90 Webster coauthored papers with fake data. An investigation by his Northeastern University ensued, unexpectedly because until then Webster was protected and his critics were threatened, as I was informed.
An email sent yesterday (4 May 2021) by Rebecca Willits, chair of the Department of Chemical Engineering at Northeastern University, informed the faculty:
"I was informed this morning that Tom Webster has resigned from the university as of May 4, 2021 and wanted to pass this information along to the faculty and staff."
Elisabeth Bik comments on the developments here.
Czech nanofraud
In other nanotechnology news, a reader announced yet another retraction for the Czech nanotechnology researcher Radek Zbořil of University of Olomouc, which means Zboril doesn't have many friends left. The retraction was published last Friday, 29.04.2021. The first author Hana Kmentová got the full blame. Read about Zboril's case here, and this is the retraction for Kmentova et al Catalysis Today 2019:
"The authors apologize that some of the datasets (Fig. 5c,d; Fig. S2d; Fig. S4) used in the manuscript were incorrectly supplied by HK and therefore must retract the paper."
Dannenberg over-retracted?
Also the US cancer researcher Andrew Danneberg retracts a paper, in AACR's Cancer Discovery, as commented by Clare Francis under the relevant article. Dannenberg's institutional website at Weill Cornell was deleted, here a backup from February 2020. An announcement says he retired on 30 March 2021, thanks him for "for his 33 years of service in the Division of Gastroenterology and Hepatology" and wishes "well in his next chapter". Danneberg just turned 65, above the legal retirement age in New York, but too early for an ambitious scientist!
Maybe he had too many retractions? The new one makes it 12 in total. The retraction notice for Subbaramaiah et al 2012 declares:
"This article (1) has been retracted at the request of the authors based upon evidence of data falsification or fabrication in Figs. 2B, 4C, and 5H. An Editor's Note had previously been issued (2)."
#PruittData
Again on topic of retractions, a reader shared this blog post by Jeremy Fox about the current status of #PruittData affair around the fabricated animal ecology research by Jonathan Pruitt (who tried to silence his coauthors and journal editors with legal threats, and even achieved a reversal of a retraction, read here). The blog post goes:
"The #pruittdata saga started with an Am Nat paper (see here for background). Now, #pruittdata is (hopefully!) over as far as Am Nat is concerned. Pruitt et al. 2012 Am Nat has received a correction and an unusually detailed Expression of Concern. Which means that all of Jonathan Pruitt's Am Nat papers have now been retracted, corrected, and/or subjected to EoCs. As someone who's been heavily involved with Am Nat's investigations, boy do I wish I could say the saga is over for everyone else too. But it's not. Not even close. There are still investigations ongoing at various other journals (see below). The McMaster University investigation is still ongoing (or it was as of a couple of months ago, anyway). Is Tennessee still investigating?"
Raoult and Chabriere report Elisabeth Bik to French police
Eric Chabriere, the antisemitic officer of French armed forces and bully professor of IHU Marseille, who spends his workday joking about the Holocaust and threatening people with violence (read here), announced on Twitter that he and his IHU monarch Didier Raoult reported Elisabeth Bik and Boris Barbour of PubPeer to the French state prosecutor, for alleged harassment and extortion. This was the tweet's content: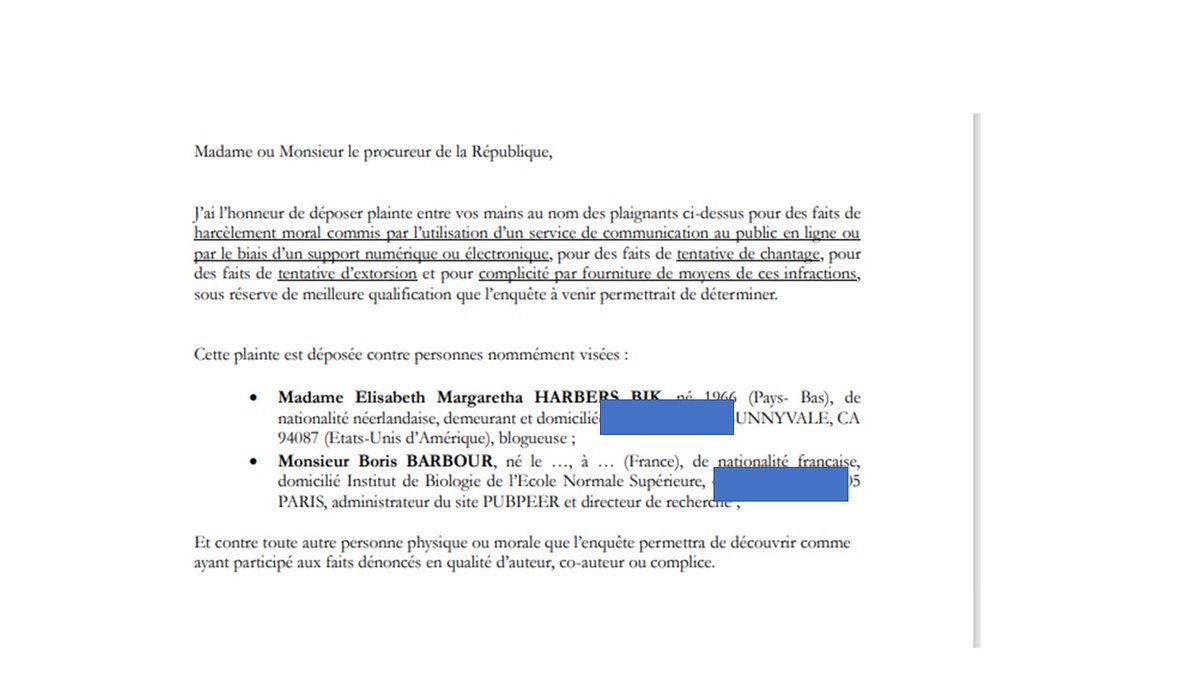 Bik's "crime" was to expose the data manipulations, the absence of ethics approvals and the hidden conflicts of interest in the papers of Raoult and Chabriere, and to post it on PubPeer, which in the eyes of IHU makes Barbour complicit. The extortion and blackmail charges are based on the fact that Bik has a Patreon account, where she invites readers like Chabriere to donate. Also Chabriere's mentee and business partner, Mikael Elias, accused Bik of harassment and defamation, for same reason.
There is absolutely no way IHU can succeed in convincing the French police to open a criminal prosecution, simply because there exists no applicable criminal law for such made-up charges. Chabriere's and Raoult's move simply serves the purpose of scaring Bik and PubPeer, hopefully they will not succeed. There is a signature campaign in support of Bik.
Meanwhile, Raoult (who, as I was informed, refuses to get vaccinated for COVID-19) continues exploring the joys of vaccine "scepticism", which will sure please his huge followship of covidiots and antivaxxers. In his pre-pandemic book on vaccines, Raoult decreed the DTP (diphtery, tetanus and polio) vaccines as unnecessary while the measles vaccines are in his view "useless". Now he warns in French media against the Pfizer/BionTech COVID-19 vaccine:
"And if, in these great times of terror we live in, people are reassured to be vaccinated, they must be vaccinated. But there are more downsides than they say. There is a work that just came out in Nature which shows that there are 70% side effects with the Pfizer vaccine. We had never seen this with a vaccine: it is two to three times more than the vaccine against the flu. There are also some lethal effects. Is the risk worth taking? Certainly when you are part of a population at risk, but, when you are part of the population without risk, you can ask yourself the question, it is everyone's choice"
And now look, this antivax stance earned Raoult has a new celebrity fan: Toby Young, the notorious English eugenicist and white supremacist:
COVID-19
Which neatly brings us to the topic of genius men (yes, men) to save the world from COVID-19.
Penninger has a new idea
Mr ACE2 Josef Penninger is, as you all should know, a genius who has saved the world. The Austrian scientist (now back in Canada) and friend of Guido Kroemer has previously squashed the COVID-19 pandemic with his patented drug APN01, a soluble ACE2 receptor (read here, somehow this article got removed in Google search upon someone's request). A clinical study Zoufaly et al Lancet Resp Med 2020 clinched the success story, all Austrian media duly celebrated the APN01 breakthrough and their nation's greatest scientist of all times. In fact, the Austrian and also Canadian journos have been celebrating Penninger's genius incessantly since the begin of the pandemic.
You would think Professor Penninger and his company Apeiron would get an emergency use authorisation for APN01 in the EU, Canada and USA, ratchet up the production, and save the world. But it seems, the Austrian Genius lost interest, maybe his APN01 went bad in the fridge or a cat ate it. Penninger now discovered a new COVID-19 therapy approach which is quite different and unrelated, while APN01 doesn't even get a mention anymore. Here is Our Saviour in the Canadian news, having found the "virus's Achilles heel":
"Lectins are proteins that can bind the sugar molecule structure on lipids or proteins such as the spike protein. Our idea is to harness this property to develop a drug to combat COVID-19 disease."
Like a child with a new toy, because the old one broke, rotten envious minds would say. This is the preprint, published 1 April 2021, which will soon serve as template for a Nobel Prize:
David Hoffmann, Stefan Mereiter,Yoo Jin Oh, Vanessa Monteil, Rong Zhu, Daniel Canena, Lisa Hain, Elisabeth Laurent, Clemens Grünwald-Gruber, Maria Novatchkova, Melita Ticevic, Antoine Chabloz, Gerald Wirnsberger, Astrid Hagelkruys, Friedrich Altmann, Lukas Mach, Johannes Stadlmann, Chris Oostenbrink, Ali Mirazimi, Peter Hinterdorfer, Josef M. Penninger Identification of lectin receptors for conserved SARS-CoV-2 glycosylation sites bioRxiv (2021) doi: 10.1101/2021.04.01.438087
EXO-CD24 goes global
More on great men who save the world from COVID-19. Israel's Nadir Arber, whose nose spray "EXO-CD24" (made of HEK293 supernatant and endorsed by Bibi Netanyahu, read here) became a kind of unofficial head of state, or at least the Israel's ambassador of quackery lunacy scientific genius. Last week, Arber met Greece's prime minister Kyriakos Mitsotakis where they discussed their nations' joint approach to the pandemic: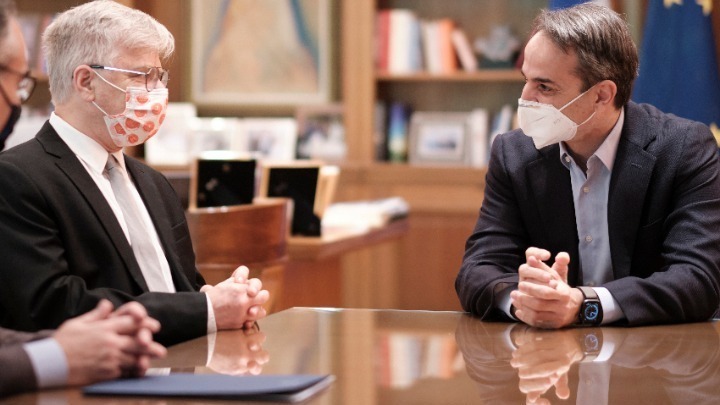 "At the meeting, that was held at the Maximos Mansion in the presence of infectious diseases professor Sotiris Tsiodras and Alternate Health Minister Vassilis Kontozamanis, they discussed the developments regarding the start of the clinical trials in Greece of the new Israeli medicine against the serious complications of COVID-19 disease.
The clinical trials in Greece will be initially held in three Greek hospitals, two at Sotiria hospital and one at Attikon University Hospital.
Issues of broader cooperation in the sector of biotechnology were also discussed while Arber extended Israeli Prime Minister Benjamin Netanyahu's warm regards to Mitsotakis."
According to an Israeli news source, the Indian health ministry currently begs Arber to send at least 10 doses of EXO-CD24. Probably for Narendra Modi and his family, just in case. Arber's Ichilov hospital in Tel Aviv promised to deliver, provided the Israeli authorities waive the legal prohibitions on the export of unapproved medicines.
For more nasal spray against COVID-19 from Israeli scientists, read here.
---
Even more nasal spray!
Nasal spray is obviously the way to go with COVID-19. Its easy to apply, easy to sell, it does not really matter at the end if it works or not. Here a nasal spray made from a food emulsifier, by Amcyte Pharma in USA and announced per press release:
"Nasitrol is a patented nasal spray based on iota carrageenan, a sulfate polysaccharide synthesised by red algae, with demonstrated antiviral activity and clinical efficacy as a nasal spray in the treatment of the common cold. A previous study at the US's University of Tennessee Health Science Center found that the formulation inhibits infection by SARS-CoV-2, the virus that causes COVID-19, in vitro.

In the new study (NCT04590365), conducted at eight hospital ICUs in 394 clinically healthy physicians, nurses and other medical professionals who provided care to COVID-19 patients and who had not yet been vaccinated against the disease. […] The incidence of COVID-19 infection was significantly lower in the Nasitrol group compared with placebo, one percent versus five percent, respectively.

The study was led by Dr Juan Figueroa of The Cesar Milstein Research Institute in Argentina and Dr Mónica Lombardo of the CEMIC University Hospital in Buenos Aires, and sponsored by the Ministry of Science, Technology and Innovation of Argentina."
The linked clinical trial (NCT04590365) was listed as of 28 April 2021 as "Recruiting", and it uses a throat spray. More puzzlingly even, it is a trial happening not in Argentina, but in Wales, UK, and run by the Swansea and Cardiff Universities. The correct trial would be NCT04521322, probably the company Amcyte Pharma sponsors both of them, all without ever mentioned in trial registrations. No results are published.
If you can't wait for Amcyte's carrageenan nose spray to hit the shops, you can snort almond milk instead, with same effect on SARS-CoV2.
Homeopathic vaccine
Homeopathy is something no university-trained doctor or pharmacist would ever take seriously, right? And yet, every single German pharmacy sells homeopathic "medicines", very openly and proudly so. One homeopathy-obsessed pharmacist in Koblenz decided to tackle the pandemic in a truly genius way. They announced on their webpage:
"We have Pfizer / BioNTech Covid-19 vaccine in potentized form up to D30 in the form of globules or dilution (for discharge)."
The pharmacist eventually deleted the offer and reassured it was not meant as a vaccine alternative, but "to help the people", €15 a pop.
---
Methylene Blue now
No COVID-19 cure is too silly or too dangerous. So it's methylene blue now, as a Twitter user discovered:
Methylene Blue is great fun because, "Common side effects include headache, vomiting, confusion, shortness of breath, and high blood pressure.[4] Other side effects include serotonin syndrome, red blood cell breakdown, and allergic reactions.[4] Use often turns the urine, sweat, and stool blue to green in color" (Wikipedia).
Unfortunately, the paper
Jin et al , Methylene blue photochemical treatment as a reliable SARS-CoV-2 plasma virus inactivation method for blood safety and convalescent plasma therapy for COVID-19 BMC Infectious Diseases (2021) doi: 10.1186/s12879-021-05993-0
contains falsified data and hides financial conflicts of interest, spotted by Elisabeth Bik. But then again, that study by a Chinese company merely suggested to treat blood plasma with light-activated methylene blue before infusion, externally, how boring and unambitious. Now, here is some maverick science, from USA no less, and in Frontiers of course:
Damir Bojadzic, Oscar Alcazar, Peter Buchwald Methylene Blue Inhibits the SARS-CoV-2 Spike–ACE2 Protein-Protein Interaction–a Mechanism that can Contribute to its Antiviral Activity Against COVID-19 Frontiers in Pharmacology (2021) doi: 10.3389/fphar.2020.600372
It was spotted by Abby Philips, Indian hepatologist and quackery debunker. From the abstract:
"Hence, this PPI inhibitory activity could contribute to its antiviral activity against SARS-CoV-2 even in the absence of light by blocking its attachment to ACE2-expressing cells and making this inexpensive and widely available drug potentially useful in the prevention and treatment of COVID-19 as an oral or inhaled medication."
This is one of those cases where the authors are welcome to test it on themselves, prophylactically.
---
Frozen Red Herring
The Communist Party of China and its hand-picked WHO "investigative" team proclaimed a lab leak theory of COVID-19 as "extremely unlikely", having completed their guided tour of Wuhan. Because there is exactly zero evidence so far for a natural origin of SARS-CoV2 in any animal host, the investigators started to push a "cold chain" theory, according to which the virus entered China via frozen fish or other refrigerated food, from Europe or USA. The theory is extremely popular with Chinese authorities and state media.
A scientist in a dictatorship always knows what kind of science is required. So here a paper by two Beijing mathematicians from Tsinghua University. Yes, mathematicians.
Shaojun Pei & Stephen S.-T. Yau Analysis of the Genomic Distance Between Bat Coronavirus RaTG13 and SARS-CoV-2 Reveals Multiple Origins of COVID-19 Acta Mathematica Scientia (2021) doi: 10.1007/s10473-021-0323-x
Conclusions:
"From our analysis, SARS-CoV-2 most likely has already existed in other countries such as France, India, Netherland, England and United States before the outbreak at Wuhan, China."
This Frozen Red Herring contribution deserves a literal medal.
---
Healthy Living
Church business
STAT News reported about the dealings of BioViva, a US biotech startup which sells "anti-aging" therapies which can be described either as maverick genius or criminally insane, up to you really.
"Last month, during a talk hosted by the National University of Singapore, the CEO, Elizabeth Parrish, divulged that she was eagerly awaiting data from a human study involving six patients who received an experimental gene therapy. On Friday, she told STAT the procedures were done last year in Mexico."
The gene therapy these Alzheimer's patients received was an adeno-associated virus (AAV) carrying the telomerase enzyme TERT, which may have zero effect on rejuvenation but is known to be a potentially cancer-transforming oncogene, which makes those clinical tests even more exciting. Especially because BioViva's CEO Parrish previously announced in a lifestyle magazine to have had TERT-AAV injections herself:
"Over a period that lasted well into the night, there would be more than 100 injections, in her triceps and thighs and buttocks and even her face, just below the cheek."
Or maybe Parrish made it up to sell a product?
After all, it worked in mice! Here is the 2018 press release about a BioViva collaboration with the Rutgers University. No, there is no published manuscript, why? The recruitment of human customers was announced via a mailing list in 2019. STAT News writes
"An FAQ document and sign-up form detailed that the study would be conducted at the Williams Cancer Institute in Mexico City. Participants would have to pay for their own travel. Once there, they would receive a single injection of the telomerase gene construct to "rejuvenate brain cells called microglial cells." […]

STAT identified three U.S. cancer patients who said they traveled to Mexico for immunotherapy treatments from Williams, after raising money via GoFundMe campaigns to pay for the procedures, which they described as costing between $100,000 and $120,000."
That sounds hilariously criminal, but paying customer is king, which makes it legal I guess.
On BioViva's board are Harvard's star geneticist, eugenicist and God-impersonator George Church and the cryonics proselytizer Aubrey De Grey, who is too bizarre and too freakish to be make SENSe of. Church (even though he acted as board member at least since 2015) educated the public in a 2016 Guardian article that he has no ties to BioViva:
"I wouldn't call them ties," he says. "I advise people who need advice and they clearly need advice."
At least Church knows the BioViva telomerase therapy is dangerous, simply because it is liable to cause cancer, but he apparently loves money and experimenting on humans more than basic ethics:
"I think that's still an issue with telomerase. I would not sugar-coat that," said Church. "So I'm not sure it is time for that just yet, but it's close. It's extremely close."
If you are interested in anti-aging therapies, I wrote about them here, here, here.
---
News in brief
Chicago judge ordered a hospital to treat a COVID-19 patient with ivermectin, despite FDA's recommendation against it (Chicago Tribune).
"Brazil's Supreme Court formalized a criminal investigation last week into President Jair Bolsonaro's handling of the pandemic". Depending on the outcome, Bolsonaro may be impeached (PBS).
Another senior German politician accused of plagiarism in their doctorate dissertation: Helge Braun (CDU), head of Bundeskanzleramt (German Chancellery), which is the office of prime minister (Bundeskanzler). The University of Giessen opened a full investigation (Giessener Allgemeine, in German).
Hungary's dictator Viktor Orban steals public money to build a Chinese university in Budapest, serving his new overlord Xi Jinping (Radio Liberty).
If you believed "carbon-neutral" flying protects rain forests: well, that was a marketing scam by BA, EasyJet et al (Guardian/UnEarthed, h/T Sylvie Coyaud)
3 looneys, one them going by the name "Space Tiger King" (protegee of the panspermia loon Chandra Wickramasinghe), claim they found mushrooms on Mars (Daily Mail), allegedly published in a Scirp predatory journal, but unavailable even there. Read back story on cnet.
If you are interested to support my work, you can leave here a small tip of $5. Or several of small tips, just increase the amount as you like (2x=€10; 5x=€25). Your generous patronage of my journalism will be most appreciated!