The hammer has fallen. The lab of misconduct-tainted plant scientist Patrice Dunoyer at the CNRS Institut de Biologie Moléculaire des Plantes (IBMP) in Strasbourg, France, has been closed with a 48 hour notice, following the decision of the institute's director Laurence Maréchal-Drouard. The (now former) lab members were informed by general mailing list announcement; the reasons for closure were officially "not related to integrity concerns". The only good news for Dunoyer is that he is tenured, and cannot be sacked for his previous research misconduct, because CNRS already punished him for it with a whole one-month suspension.
Dunoyer used to be the right-hand man of the disgraced former titan of French and worldwide plant science research, Olivier Voinnet. The former was already working at IBMP when his 30-year old colleague Voinnet arrived at IBMP and became his boss in 2002. In 2010, Voinnet received a professorship at ETH Zürich and moved there as CNRS delegate, but he kept operating his CNRS lab in Strasbourg, with Dunoyer acting there as co-principal investigator. In 2015, after being found guilty of misconduct by both ETH and CNRS, Voinnet was forced to relinquish his Strasbourg lab, which left Dunoyer (at least officially) as its only head. The fallen star of plant sciences was forced to retract 8 publications, 3 of which had Dunoyer as first author (Dunoyer et al, Plant Cell, 2004; Dunoyer et al, EMBO J, 2010; Dunoyer et al, Science 2010), who also admitted data manipulations in another retraction (Sansregret et al, PLoS Pathogens). There were also around 20 embarrassing Voinnet corrections due to data manipulation, some with Dunoyer as first or last author and again, as self-admitted data manipulator (Dunoyer, Plant J, 2002; Dunoyer et al, Nature Genetics 2006; Navarro et al, Science, 2006; Schott et al, EMBO J, 2012).
Nevertheless, Dunoyer proved just as unsackable as his boss Voinnet. After both of them had to stand a CNRS investigation, Voinnet was barred from CNRS employment for two years and Dunoyer for one year, according to CNRS official rules of misconduct sanctioning of category 3. The Frenchman Voinnet was thus left stranded forever in German-speaking Zürich, and in Dunoyer's case, 11 months of the ban were suspended, so he was only made to take a one-month unpaid vacation and then resumed managing his lab at IBMP. Some of his lab members however transferred with time to neighbouring labs, probably not everyone was keen to work with this zombie scientist.
The IBMP institutional website of the Dunoyer lab is still intact (today at least). However, today's CNRS website presents Dunoyer lab stripped of the lab leader's name and of all lab members, those are "in process of hiring". It was not always like this. In 2016, a cached copy of same website showed a large and prosperous lab (backup here). Since then, the Voinnet technician Christophe Himber moved to the IBMP lab of Todd Blevins, the tenured researcher Damien Garcia and the PhD student Clara Chicois to the lab of lab of Dominique Gagliardi (which also hosts the disreputable tenured researcher Heike Lange, whose work is described here). Where the PhD student Marco Incarbone now is, is unclear, but he is not assigned to any IBMP lab. Another technician, Shahinez Garcia, moved to INRA institute in Colmar. Which leaves only the tenured researchers Fabrice Michel and Jean Moliner (latter just today disappeared off IBMP website); as well as the two postdocs, Ye Rim Kwon and Thomas Montavon, who apparently learned of the Dunoyer lab dissolution over a mailing list announcement.
I approached the IBMP director Drouard with a request to confirm my information about her shutting-down of the Dunoyer lab. She did not reply, but apparently delegated her IT-engineer Jean-Luc Evrard to troll me. Addendum 5.4.2017: Evrard is in fact also Deputy Director of IBMP. He called my information "fake news", "bullshit" and me his "little boy" and "baby" (email exchange here). Despite my requests, Drouard did not distance herself from that bizarre communication, as well as this last message from Evrard, which is apparently to serve as IBMP's official statement on the issue of Dunoyer lab dissolution:
"You can check whatever you want little boy, but still and still a fake news 🙂 Wouhahaha !!!"
Why did Drouard suddenly decide to punish the CNRS Bronze medal awardee Dunoyer? Maybe the recent external evaluation of her institute did not go as smoothly as hoped. As I reported, not only Dunoyer, but several of his IBMP colleagues had data manipulations uncovered in their publications on PubPeer. To make things worse, also several of the examiners had the same problem, some of them scrambled to PubPeer fixing the issues as soon as my article was published. Just days before the examiners arrived in Strasbourg, a Dunoyer-co-authored paper from IBMP was retracted for data manipulation (Pfeffer et al, J Virol, 2002). The evaluation on March 8-9 must have been a total mess of denial and blame shifting from all sides, and Dunoyer's presentation to the committee surely worth selling expensive tickets to.
Another reason why Drouard went ballistic on Dunoyer may be her own shortcomings in the area of research integrity which needed to be moved out of focus. Also here, my reporting brought to light some rather suspicious issues in the publications from her own lab (also see this reader comment).
What next for Dunoyer? This zombie scientist will probably become a staff member in someone else's lab and haunt CNRS until his retirement, which is not so soon at all. If anyone wants him, that is.
---
Update 01.05.2017.
On April 22nd, Laurence Drouard and her IBMP colleague Heike Lange marched for science in Strasbourg. Not sure what their demands were, but it couldn't have been research integrity. After I tweeted the image below, IBMP deputy director Jean-Luc Evrard wrote to me to call me an "idiot".
Update 10.02.2018. The paper in Nature Plants from last summer and the embracing forgiveness of journal editors and academic community did not help. According to a reliable source, IBMP director Drouard announced this week to the staff that Patrice Dunyoer, while officially on vacation, has "no plans to return". He now moved with his family back to the French territory New Caledonia in the South Pacific, where he originally comes from. His lab space and equipment are being distributed to other IBMP teams.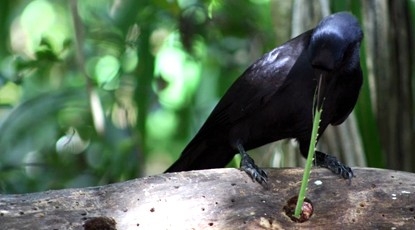 Update 18.03.2019.
In early March, after Dunoyer was fingered as the sole responsible in the Voinnet affair (while the master himself plays the accuser), IBMP director Drouard asked lab technicians to destroy all biological material from the abandoned Dunoyer lab. Witnesses saw literally hundreds of freezer boxes containing clones and genetic strains bing destroyed. The official reason given by Drouard was: to empty the freezer space.
Basically, entire output of the Dunoyer (and formerly Voinnet) Strasbourg lab ceased to exist.
If you are interested to support my work, you can leave here a small tip of $5. Or several of small tips, just increase the amount as you like (2x=€10; 5x=€25). Your generous patronage of my journalism will be most appreciated!